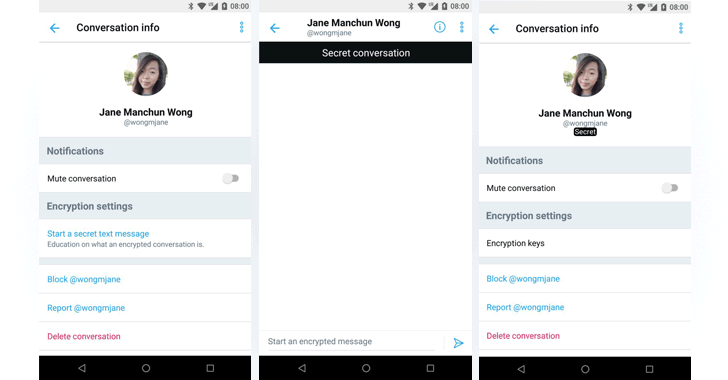 Twitter has been adopting new trends at a snail's pace. But it's better to be late than never.
Since 2013 people were speculating that Twitter will bring end-to-end encryption to its direct messages, and finally almost 5 years after the encryption era began, the company is now testing an end-to-end encrypted messaging on Twitter.
Dubbed "
Secret Conversation
," the feature has been
spotted
in the latest version of Android application package (APK) for Twitter by Jane Manchun Wong, a computer science student at the University of Massachusetts Dartmouth.
End-to-end encryption allows users to send and receive messages in a way that no one, be it an FBI agent with a warrant, hacker or even the service itself, can intercept them.
However, it seems like the Secret Conversation feature has currently been available only to a small number of users for testing. So, if you are one of those lucky ones, you will be able to send end-to-end encrypted Secret Conversation through Direct Messages.
Secret Conversation appears to allow Twitter users to send encrypted direct messages and beef up the security of their conversation.
How to Send Encrypted Twitter Direct Messages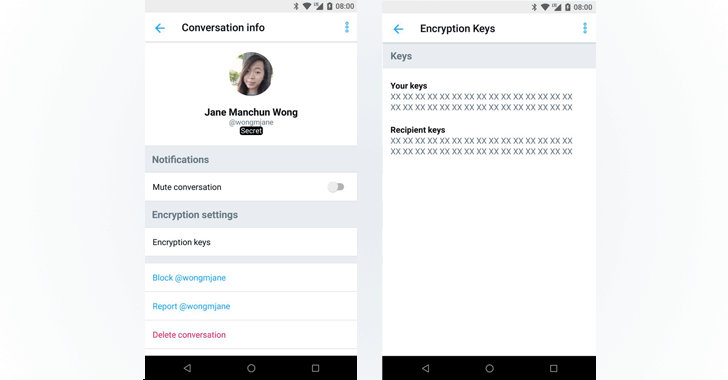 Unlike WhatsApp and Apple's iMessage, your all conversations on Twitter DM will not be end-to-end encrypted by default; rather you'll have to selectively start an encrypted chat, just like you start a
Secret Conversations
on Facebook Messenger.
As shown in the screenshot shared by Wong, one needs to follow below-mentioned steps to start a Secret Conversation on Twitter (after it's available to everyone):
Open the Twitter app on your Android device.
Open an existing conversation or start a new DM conversation with the person you want to chat secretly.
Tap the information icon in the upper right corner of your phone.
Select 'Start a secret text message,' and a new window will open where you can send encrypted messages.
It should be noted that the current infrastructure of Twitter does not offer the privacy of individuals' encryption keys require to encrypt/decrypt messages, thus Secret Conversation feature would not be available for desktop/web version of Twitter.
Instead, only mobile apps (Android/iOS) for Twitter can easily be used to keep your encryption keys secret on your smartphones, just like WhatsApp, and Facebook Messenger.
Besides Secret Conversation, Twitter is also working on an in-app "
Data Saver
" mode, which if enabled, saves some of your bandwidth and speeds up the app by disabling autoplay for videos and loading of heavy images.