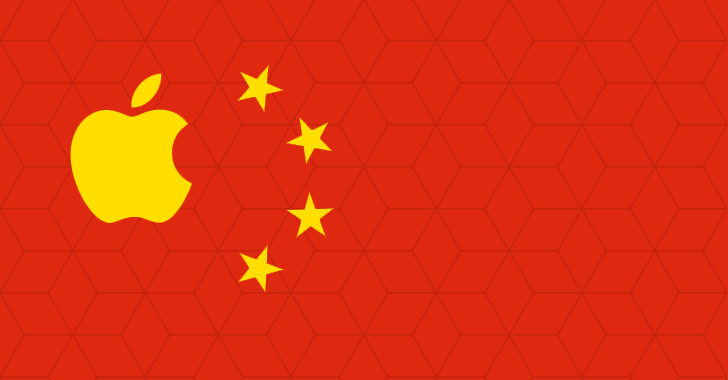 Apple has finally agreed to open a new Chinese data center next month to comply with the country's latest controversial data protection law.
Apple will now move the cryptographic keys of its Chinese iCloud users in data centers run by a state-owned company called Cloud Big Data Industrial Development Co, despite concerns from human rights activists.
In 2017, China passed a
Cybersecurity Law
that requires "critical information infrastructure operators" to store Chinese users' data within the country's borders, which likely forced Apple to partner with the new Chinese data center.
And the icing on the cake is that Chinese government already has legislation called National Security Law, passed in 2015, which gives police the authority to demand companies help them bypass encryption or other security tools to access personal data.
This is the first time when Apple is going to store encryption keys required to unlock iCloud accounts of its users outside the United States.
In theory, Chinese law enforcement agencies won't have to ask US courts for compelling Apple to give them access to the Chinese users' data.
Instead, they'll simply use their legal system to demand access to cryptographic keys required to unlock iCloud accounts stored within their nation, making it far easier to access users' data, such as messages, emails, and photos.
However, Apple has said the company alone would have access to the iCloud encryption keys and that Chinese authorities will have no backdoor into its data troves.
Apple said the company had not given any of its customers account information to Chinese authorities despite receiving 176 requests from 2013 to 2017,
Reuters
reported, though all requests were made before the new cybersecurity laws took effect.
If Apple thinks it would comply with one law, i.e., storing users data in China, but could stand without complying with other stringent Chinese regulations, then the company should reconsider its decision.
The company has severely been implementing various aspects of Chinese laws in recent months for its regional operations in the most populated country.
Last year, Apple controversially
removed VPN apps
from its official App Store in China to comply with Chinese cyberspace regulations, making it harder for internet users to bypass its Great Firewall.
Earlier last year, Apple removed the New York Times (NYT) app from its Chinese App Store because the app was in "violation of local regulations."