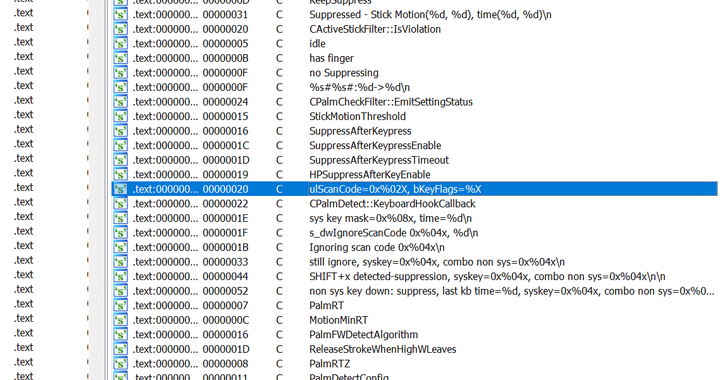 HP has an awful history of 'accidentally' leaving keyloggers onto its customers' laptops. At least two times this year, HP laptops were caught with
pre-installed keylogger
or
spyware
applications.
I was following a
tweet
made by a security researcher claiming to have found a built-in keylogger in several HP laptops, and now he went public with his findings.
A security researcher who goes by the name of ZwClose
discovered
a keylogger in several Hewlett-Packard (HP) laptops that could allow hackers to record your every keystroke and steal sensitive data, including passwords, account information, and credit card details.
The Keylogger was found embedded in the SynTP.sys file, a part of Synaptics touchpad driver that ships with HP notebook computers, leaving more than 460 HP Notebook models vulnerable to hackers.
Although the keylogger component is disabled by default, hackers can make use of available open source tools for bypassing User Account Control (UAC) to enable built-in keylogger "by setting a registry value."
Here's the location of the registry key:
HKLM\Software\Synaptics\%ProductName%
HKLM\Software\Synaptics\%ProductName%\Default
The researcher reported the keylogger component to HP last month, and the company acknowledges the presence of keylogger, saying it was actually "a debug trace" which was left accidentally, but has now been removed.
"
A potential security vulnerability has been identified with certain versions of Synaptics touchpad drivers that impact all Synaptics OEM partners,
" HP says in its advisory, calling the keylogger as a potential, local loss of confidentiality.
"
A party would need administrative privileges in order to take advantage of the vulnerability. Neither Synaptics nor HP has access to customer data as a result of this issue.
"
The company has released a Driver update for all the affected HP Notebook Models. If you own an HP laptop, you can look for updates for your model. The list of affected HP notebooks can be found at the
HP Support website
.
This is not the very first time when a keylogger has been detected in HP laptops. In May this year, a built-in keylogger was found in an
HP audio driver
that was silently recording all of its users' keystrokes and storing them in a human-readable file.