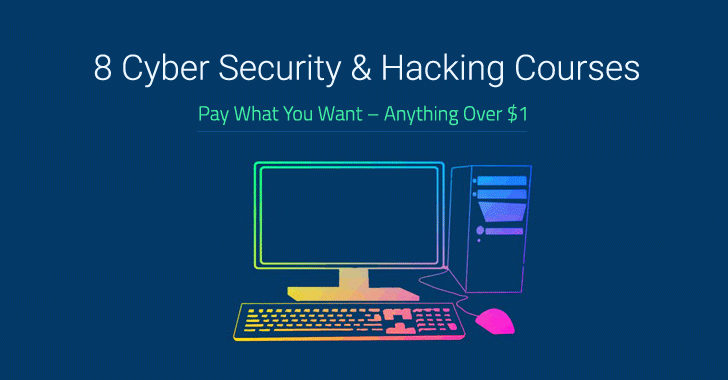 Update (Oct 2018)
— Over 30,000 students from all around the world have joined this training program so far.
Due to the growing number of threats in the computer world, ethical hackers have become the most important player for not only governments but also private companies and IT firms in order to safeguard their systems and networks from hackers trying to infiltrate them.
By 2020, employment in all information technology occupations is expected to increase by 22 percent, where demand for ethical hackers and IT security engineers will be the strongest. So, it's high time that you should start preparing yourself in the field of ethical hacking.
Although there are many popular and best online courses available in the market, you can't learn everything from a single book or a course.
Good news, we bring an amazing deal of this month for our readers, known as
The Ultimate White Hat Hacker 2018 Bundle
online hacking bundle, where you can get hacking courses for as little as you want to pay and if you beat the average price you will receive the fully upgraded hacking bundle!
You can get at least one ethical hacking courses for less than the average price you pay (as little as $1), and all 8 online courses for the average price (which is $15.69 at the time of writing).
Here's the brief of all 8 courses which is included in this Pay What You Want deal and requires a minimum of the average price:
Hack Windows Like a Pro, Secure It Like an Expert, and Detect the Hacker
This online course helps you learn how black hat hackers hack Windows using advanced techniques while improving your knowledge on how to analyze and secure Windows and combat hackers.
Learn Advanced Social Engineering Techniques to Crack Mobile Devices
This course helps you learn ethical hacking techniques and methodology used in penetration systems to better protect yourself and those around you.
Attack Web Apps with the Latest Professional Tools & Tricks
This online course helps you build towards mapping an application for insecurities, and understanding how to identify and mitigate threats, with WAPTP v3.1 which is a highly practical and hands-on training for web application penetration testing.
Learn Basic to Advanced Web, Network, and WiFi Hacking
This online course helps you learn the essential elements of WiFi hacking so you can start applying them to a career in ethical hacking.
Discover the Power of Kali Linux, One of the Most Popular Ethical Hacking Tools
This course introduces you to the latest ethical hacking tools and techniques with the popular Kali Linux, using a testing lab for practicing different types of attacks.
Learn How to Hack Sites Like A Black Hat Hacker and How to Protect Them Like A White Hat Hacker
This course helps you gain a complex understanding of websites, and then learn how to exploit them to carry out a number of powerful cyber attacks and test the security of websites and apps, and fix vulnerabilities.
Discuss Network Security, Firewalls, and Learn the Best Password Managers On the Market
This course helps you learn network hacking techniques and vulnerability scanning to discover security issues and risks across an entire network, learning skills for which big companies are willing to pay top dollar.
Hack Your Way to a Secure and Threat-Free Environment Using Best-in-Class Tools and Technique.
This course helps you learn ethical hacking and identify threats and vulnerabilities to secure your IT environment.
So, what you are waiting for?
Sign up to Grab this amazing deal Now!