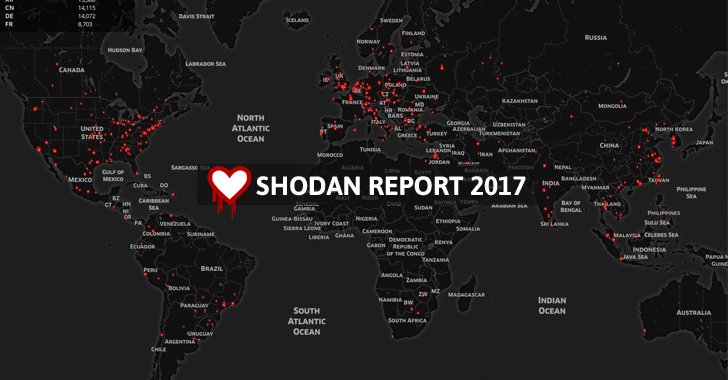 It's more than two and half years since the discovery of the critical
OpenSSL Heartbleed vulnerability
, but the flaw is still alive as it appears that many organizations did not remediate properly to the serious security glitch.
It was one of the biggest flaws in the Internet's history that affected the core security of as many as two-thirds of the world's servers i.e. half a million servers at the time of its discovery in April 2014.
However, the critical bug still affects more than 199,500 systems even after 2 years and 9 months have already passed, according to a
new report
published today on Shodan, a search engine that scans for vulnerable devices.
Over 199,500 Systems Still Vulnerable to Heartbleed
Heartbleed
(CVE-2014-0160) was a serious bug in the OpenSSL's implementation of the TLS/DTLS heartbeat extension that allowed
attackers to read portions
of the affected server's memory, potentially revealing users data that the server isn't intended to reveal.
According to Shodan CEO John Matherly, about 199,500 services remain exploitable by the Heartbleed vulnerability due to unpatched OpenSSL instances.
The countries most affected by Heartbleed still remain the United States, followed by Korea, China, Germany, France, Russian Federation, United Kingdom, India Brazil and Italy.
Matherly discovered 42,032 heartbleed-exploitable services in the United States, 15,380 in Korea, 14,116 in China, and 14,072 services in Germany.
With top organizations vulnerable to the OpenSSL bug is SK Broadband and Amazon.com, and about 75,000 of the vulnerable services use expired SSL certificates and run Linux 3.x.
Heartbleed
is one of many flaws that often exist unpatched in the wild, and now that the bug has been more than two and half years old and known to everybody, anyone can simply use it to carry out attacks against the still affected systems.
Around 200,000 is really a troubling number, and one can imagine the danger and damages caused by the bug if exploited.
Software bugs may come and go, but this flaw is more critical and probably the biggest Internet flaw in recent history as it left the contents of a server's memory, where the most sensitive data is stored, exposed to the attackers.
What are the Steps to Protect your Systems against Heartbleed?
It takes roughly three steps to remediate the Heartbleed bug.
Patching: Update your software to the latest versions of OpenSSL; thankfully almost all organization have accomplished this step.
Creation of New Private Keys: Creating new private keys will prevent an attacker, who already exploited the flaw before patching, from being able to spy on your encrypted.
Reissuance of Security Certificates: This step will eliminate the ability of any attacker to spoof organizations and fool or phish their customers.