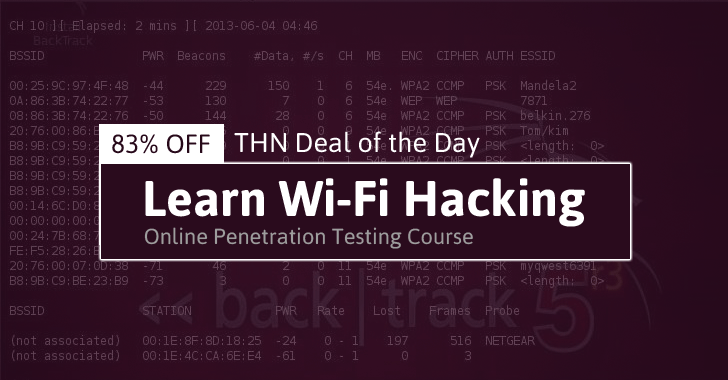 Hacking Wi-Fi is not a trivial process, but it does not take too long to learn. If you want to learn WiFi Hacking and Penetration testing, you are at right place.
Don't associate hacking as a negative, as you can learn some hacking skills yourself to secure your networks and devices. WiFi hacking is an all time hot topic among hackers as well as penetration testers.
This week's featured deal from THN Deals Store brings you 83% discount on Online
Wi-Fi Hacking and Penetration Testing Training Course
.
This online Wi-Fi Hacking and Penetration Testing course is structured in a way that will provide you an in-depth, hands-on comprehensive information on Wi-Fi Security and Penetration Testing, and Defenses on WiFi systems to protect it from these attacks.
This training course is available with lifetime access and focuses on the practical side of Wi-Fi hacking without neglecting the theory behind each attack. All the attacks explained in this course are practical attacks launched against real Wi-Fi networks.
The Wi-Fi Hacking and Penetration Testing from Scratch Course will take you through 47 chapters which explain all attacks in an easy way, the theory behind each attack, and how you can carry out these attacks.
With the help of this training, you can crack standard encryption (WEP/WPA/WPA2) with more than 20 practical penetration testing tools, control connections of clients around you without knowing passwords, launch various 'man-in-the-middle' attacks, and detect ARP poisoning & protect yourself and your network against it.
By the end of this course, you will understand the framework of a range of practical attacks against WiFi network – and more importantly, you will learn how to protect yourself against them.
Here's the THN deal: This amazing
WiFi Hacking and Penetration Testing from Scratch Course
, which costs $149, will cost you just $25.
We received a great response from our last three deals as well and if you want, you can still grab these deals:
Computer Hacker Professional Certification Package — at 96% discount — offers you all the material and training you require to help pass CISSP, CISM, CISA, Ethical Hacker and Forensics Investigator to become certified penetration tester.
Python For Offensive PenTest: A Complete Practical Course — at 35% discount — offers 6 hours of online Python training helping you with the concepts and techniques to create your own tools from scratch, rather relying on ready-made tools.
The Python Power Coder Bundle — at 85% discount — offers over 38 hours of online Python Power Coder Bundle, which takes you through the fundamentals of coding to build your own websites from scratch and games using Python.
To get more amazing deals from the THN Deals Store... Stay Tuned!