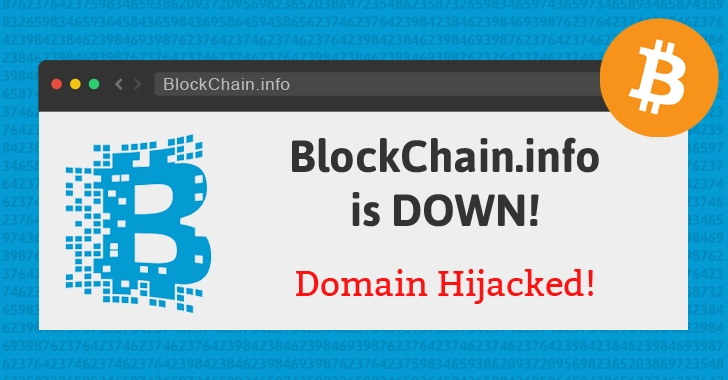 UPDATE:
The site is back and working. Blockchain team released a statement via Twitter, which has been added at the end of this article.
If you are fascinated with the idea of digital currency, then you might have heard about BlockChain.Info.
It's Down!
Yes, Blockchain.info, the world's most popular Bitcoin wallet and Block Explorer service, has been down from last few hours, and it's believed that a possible cyber attack has disrupted the site.
The site is down at the time of writing, and the web server reports a bad gateway error, with a message on the website that reads:
"Looks like our site is down. We're working on it and should be back up soon."
With more than 8 million Digital Wallet customers, BlockChain is users' favorite destination to see recent transactions, stats on mined blocks and bitcoin economy charts.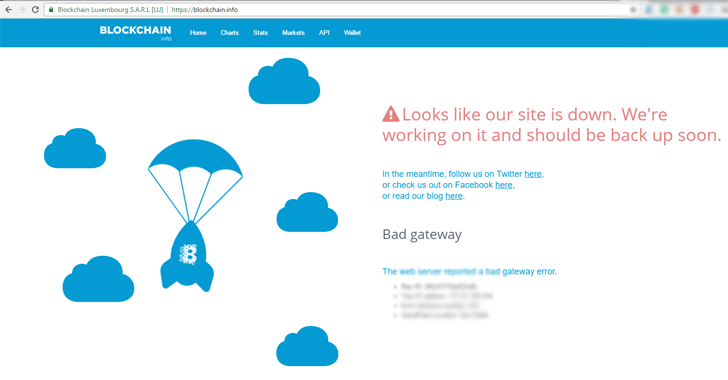 A few hours ago, BlockChain team
tweeted
about the sudden breakdown of the site, saying:
"We're researching a DNS issue and looking into it. We apologize for the inconvenience. Stay tuned."
"We're making progress resolving the issue, but it may take upwards of several hours until services are fully restored,"
another tweet
reads
.
However, a Reddit user has
noted
that "The whois and DNS records suddenly jumped from CloudFlare to a cheap web host."
It seems that their domain name has been hijacked, which was later confirmed by the BlockChain team on Reddit, saying:
"Hey everyone, our DNS provider was targeted. It's going to be several hours before our services are fully restored. The CloudFlare DNS is propagating now."
Until resolved, which may take next few hours, Blockchain.info digital wallet users would not be able to access their online accounts. In response to this incident, Blockchain users are in hopes that their online wallet has not been hacked or funds stolen.
Since its DNS server has been hijacked, it could be possible that an attacker can host a fake web page on the same domain in an effort to steal your bitcoin wallet credentials.
So, Blockchain users are strongly recommended not to log in to the site until the Blockchain team releases an official statement via its Twitter account.
Official Statement From BlockChain:
"Earlier today, we discovered our DNS registrar had been compromised. We took immediate action to resolve the issue. To be abundantly cautious, we're waiting for the DNS to propagate universally across the web before bringing our services back. Once DNS has propagated, we expect to restore services ASAP. Our sincerest apologies for any inconvenience."
However, there is no statement from the Blockchain.info team that suggests any hacking or compromise of its users bitcoin wallets.