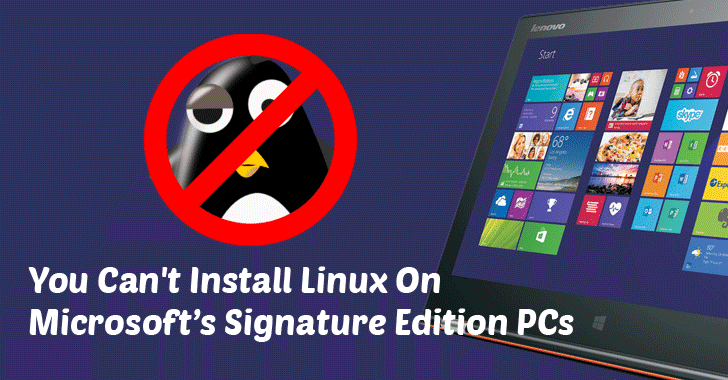 In past few months, Microsoft opened the
source code
of a lot of its projects, convincing people that the company
loves Linux
.
But a new report shows that Microsoft is not really a big supporter of Linux.
Microsoft has banned Linux on some Windows 10 powered Signature Edition PCs, which provides the cleanest Windows experience on the market.
Signature Edition PCs
are different from other systems because it is carefully and meticulously configured by Microsoft to run Windows 10 with no bloatware, paid promotional web shortcuts, or other pre-installed apps, for providing better performance.
But besides bloatware and other pre-installed apps, Microsoft won't allow you to install Linux (or any operating system) on it.
This news is not a rumor as a Reddit user BaronHK
reported
that he found it impossible to install Linux on the
Signature Edition Lenovo Yoga 900 ISK2 UltraBook
because Microsoft has locked the SSD in a proprietary RAID mode that can only be read by Windows.
UPCOMING WEBINAR
Zero Trust + Deception: Learn How to Outsmart Attackers!
Discover how Deception can detect advanced threats, stop lateral movement, and enhance your Zero Trust strategy. Join our insightful webinar!
Save My Seat!
When contacted Lenovo, the company confirmed that it had signed an agreement with Microsoft to make this happen.
"This system has a Signature Edition of Windows 10 Home installed. It is locked per our agreement with Microsoft," a Lenovo employee responded to a comment made by BaronHK about the issue.
Lenovo laptops that are not allowing its users to install Linux include the aforementioned Yoga 900 ISK2, the Yoga 900S, as well as the Yoga 710S.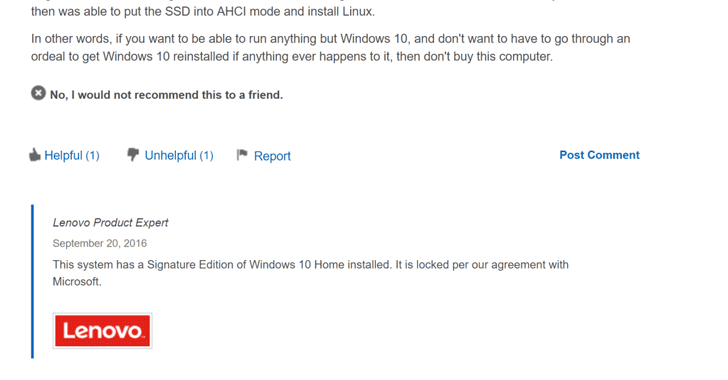 Some have suggested that the issue that prevents Linux from being installed could be Microsoft decision, while others believe that the issue could be related to how the systems have been configured by Lenovo.
For now, all which is clear is that, if you own a Lenovo Signature Edition laptop, you can not install Linux on it.
Microsoft and Lenovo still have to officially comment on this possible restriction configured for Signature Edition PCs.