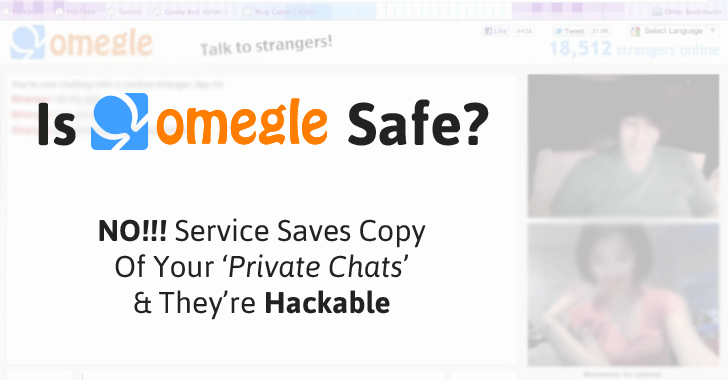 Ever since the creation of online chat rooms and then social networking, people have changed the way they interact with their friends and associates.
However, when it comes to anonymous chatting services, you don't even know what kinds of individuals you are dealing with.
Sharing identifiable information about yourself with them could put you at risk of becoming a victim of stalking, harassment, identity theft, webcam blackmail, and even phishing scams.
Have you heard of Omegle?
The popular, free online anonymous chat service that allows you to chat with random strangers, without any registration. The service randomly pairs you in one-on-one chat window where you can chat anonymously over text or webcam.
But, are your chats actually Anonymous?
No, all your chats are recorded and saved by the service. So, if you have shared your personal details such as your name, phone number, or email address, with anyone over the service, you are no more anonymous.
Even the website describes its service as,
"When you use Omegle, we pick someone else at random and let you talk one-on-one. To help you stay safe, chats are anonymous unless you tell someone who you are (not suggested!), and you can stop a chat at any time."
And here comes the worst part:
The recorded online conversations are saved in such a way that anyone with a little knowledge of hacking can pilfer them, revealing your personal information along with those dirty chats that could be used to harass or blackmail you.
Indrajeet Bhuyan (
@Indrajeet_b
), a young Indian bug hunter, has shown The Hacker News that how Omegle is saving screenshots of every 'so-called' anonymous chat session at a specific location on their web server, which could be downloaded by anyone with little knowledge of website structure.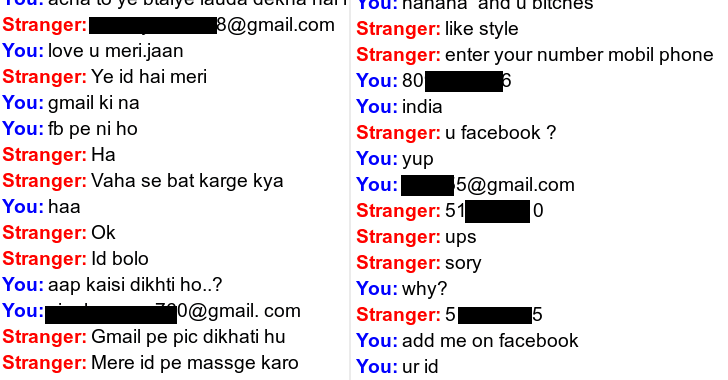 Bhuyan wrote a simple python script,
Omegle-Chat-Hack
, that automatically downloads the saved screenshots from the website.
As a proof-of-concept, he also published some of those screenshots, showing how easily people, especially teenagers, share their personal details and contact info with strangers on a service, where they are supposed to stay anonymous.
"People on Omegle often think their chats are private and automatically get deleted once they disconnect from the conversation," Bhuyan told me. "Due to this false sense of security, people often share their sensitive information on the service. Omegle-Chat-Hack is a tool that demonstrates how insecure these online chat services are and how one can read your private messages sent over the service."
So, you should be careful with what identifiable information you are sharing over such online service while chatting with strangers. The more personal information you share, the more chances there are for others to misuse your information.
Frankly, you should take your online privacy very seriously.