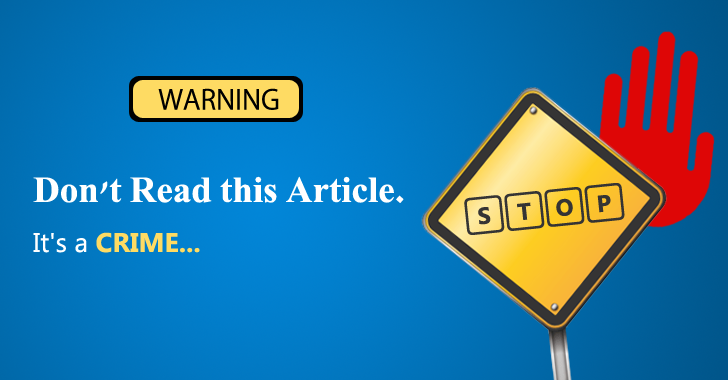 Yes, you heard it right. If I tell you not to visit my website, but you still visit it knowing you are disapproved, you are committing a federal crime, and I have the authority to sue you.
Wait! I haven't disapproved you yet. Rather I'm making you aware of a new court decision that may trouble you and could have big implications going forward.
The United States Court of Appeals for the Ninth Circuit has taken a
critical decision
on the Computer Fraud and Abuse Act (CFAA): Companies can seek civil and criminal penalties against people who access or visit their websites without their permission.
Even Sharing Password is also a Federal Crime...
Yes, a similar weird decision was taken last week when the Ninth Circuit Court of Appeals
ruled
that sharing passwords can be a violation of the CFAA, making Millions of people who share their passwords
"unwitting federal criminals."
Now, you might be wondering how visiting a publically open website could be a crime. Well, there's a legal battle behind it:
CASE: Facebook Vs. Power Ventures
The case involves a start-up called Power Ventures – allows its users to log-in and manage all of their social network accounts from one place – claimed on its site that the
"First 100 people who bring 100 new friends to Power.com win $100."
Once clicked on the link, Power used a service that let users fetch all of their contacts on different social media sites to send a series of promotional emails and internal Facebook messages inviting their friends to sign-up on Power.com.
On discovering the activity, Facebook blocked the Power's API app to access its website and user's data, as well as sent a cease-and-desist letter to the scammy service telling the company to stop.
"Facebook does allow third parties to access content by enrolling in the site's Facebook Connect program, but Power never registered with the system and conducted activities beyond the program's scope," says Orin Kerr, Professor of law at the George Washington University Law School.
According to the cease-and-desist letter, Power was violating Facebook's terms of use that may have violated federal and state law.
Even being explicitly warned to stop, Power continued using Facebook's website, which forced Facebook to sue Power Ventures in the year 2008 for violating Computer Fraud and Abuse Act (CFAA).
In September 2013, the federal court ordered Power to pay more than $3 Million in damages to Facebook on the ground that Power had violated CFAA Law.
The case was pending before the Ninth Circuit, who has also sided with Facebook recently.
Well, I'm not convinced. The court ruling is really too broad that gives prosecutors too much power to turn your activities, such as password sharing and visiting websites, into federal crimes.