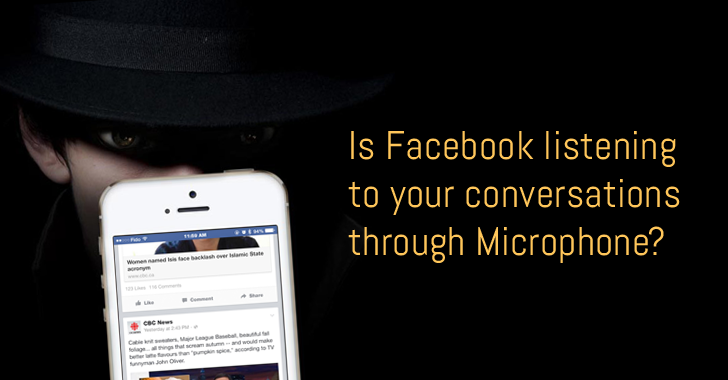 Have you ever felt Facebook is showing you very relevant ads about topics you're only discussing around your phone?
If yes, then you may find this news worth reading.
Communications Professor Kelli Burns from the University of South Florida
claims
that Facebook is listening to all conversations people have while its app is open to serve more relevant ads for products related to what they are talking about.

However, the social networking giant
responds
it does listen to audio and collect information from users, but does not record or use sounds heard around people for targeted ads.
"Facebook does not use microphone audio to inform advertising or News Feed stories in any way," a Facebook spokesperson said. "Businesses are able to serve relevant ads based on people's interests and other demographic information, but not through audio collection."
Facebook rolled out a feature in May of 2014 when the company said that it might target ads "
in the future
" based on the use of your audio identification in posts.
Like if you post that you are listening to "
Shake It Off,
" you might see an ad for Taylor Swift's concert tour.
However, Burns isn't convinced by Facebook's claims and has accused the social media giant of using an audio collection tool to not only gather it simply of helping out users, but also listen in on everything users say to serve them with relevant ads.
Burns says that she tested the feature by discussing certain topics around the phone and discovered that the site appeared to show relevant ads based on the topic.
UPCOMING WEBINAR
🔐 Mastering API Security: Understanding Your True Attack Surface
Discover the untapped vulnerabilities in your API ecosystem and take proactive steps towards ironclad security. Join our insightful webinar!
Join the Session
Burns' finding is supported by many users across the Internet, who also say that ads in their Facebook feed are related to things they spoke or discuss around their phone, but never searched for it on the Internet.
If you are also the one not convinced by Facebook's claims, you can turn off this feature with relative ease.
Here's how you can stop Facebook from listening to you:
For iPhone users:
Go to the Settings → Facebook → Settings and Turn OFF Microphone.
Android users
can use
App Permissions
to do so. For this: Go to Settings → Personal → Privacy and Safety → App Permissions → Microphone → Facebook and Turn OFF the slider.
Since these changes are done at the operating system level, Facebook can not turn the feature ON even if the social network wanted to.