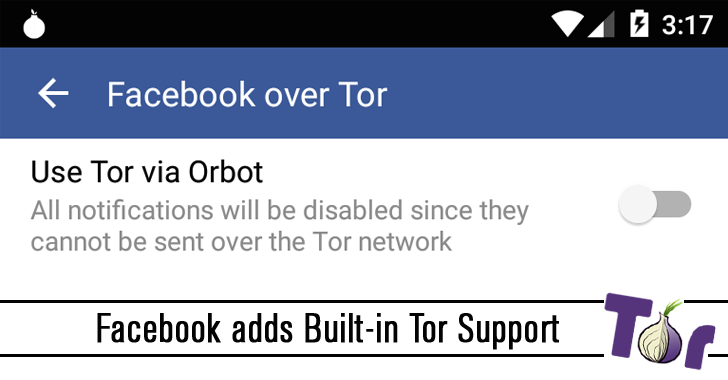 Rejoice for Privacy Lovers!
Facebook today took a surprising move by announcing that it is bringing the free anonymizing software TOR support to its Android app, almost two years after the social network planned to make Facebook available directly over Tor network.
Yes. Believe it or not, the Android version of the popular Facebook application now supports the Tor anonymity network.
In October 2014, Facebook
launched a .onion website
on TOR in order to let its users around the world access its service more securely.
Access Facebook over TOR via Orbot
This latest move to expand that access to the Android app opens up the option to millions more users to maintain their privacy when they visit the world's most popular social network.
Facebook says "a sizeable community of people" are already accessing the site over TOR, so the company is bringing this feature to Android via the free Orbot proxy app, which is available on the Google's Play Store.
"We commonly receive requests for additional platform support beyond the browser," reads the announcement, "...we are now offering experimental support for using Facebook over Tor via the Orbot proxy app for Android devices."
How to Use Facebook Over TOR?
In order to access Facebook over TOR, Download Orbot proxy app from the Play Store.
Now open Facebook app and Select "Use Tor via Orbot" in the app's Settings menu.
That's it. Now you are connected to Facebook's Tor hidden service that will mask your real IP address and will stop your internet service provider (ISP) from seeing when you visit Facebook.
Moreover, this new feature could potentially allow users to access the social network site even if it is blocked in their country, like China and Iran.
Facebook says that the company is releasing this new feature "over the next few days," so do not expect to see the pop-up right now.
And as the feature is currently in the experimental stage, flaws and other issues may occur.