If you are running Windows 7 or Windows 8.1 and have no plans to switch to Windows 10, then Microsoft could force you to install Windows 10, making it harder for you to cancel or opt-out of upgrading.

Note: Above image has been photoshopped, but the original screenshot taken by Windows users is given below.
Reports are circulating that some Windows 7 and Windows 8.1 users are claiming that the latest Windows 10 OS has begun to automatically install itself on their PCs.
According to complaints by users, Windows Update screen is only offering them the option to either:
Start the upgrade process, or
Reschedule the upgrade for a later date
Other users are finding that the dialog boxes they are presented display a message saying that the "Upgrade to Windows 10 is Ready," and prompting users to "Restart your PC to begin the installation."
However, Microsoft mistakenly checked these updates while listing them, which results in automatically installing Windows 10 on some computers running Windows 7 and Windows 8/8.1.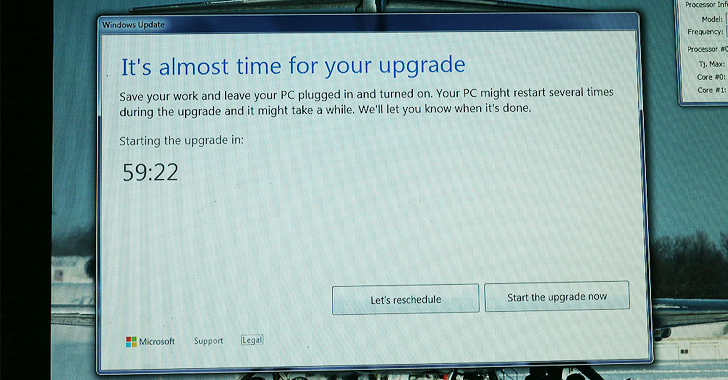 When reached out to Microsoft, the company said that the issue occurred with an optional update in Windows Update that was checked by default. Microsoft has now acknowledged the issue and reverted the checkbox, calling it "a mistake."
Mistake? Oh Really?
Here's the full official
statement
provided by Microsoft's spokesperson to Ars:
"As part of our effort to bring Windows 10 to existing genuine Windows 7 and Windows 8.1 customers, the Windows 10 upgrade may appear as an optional update in the Windows Update (WU) control panel. This is an intuitive and trusted place people go to find Recommended and Optional updates to Windows. In the recent Windows update, this option was checked as default; this was a mistake, and we are removing the check."
Just last month, Microsoft was caught
downloading the Windows 10
installer files – large gigabytes in size – to Windows 7 and Windows 8 users, even without their knowledge.
Now this recent so-called mistake by Microsoft shows that how much the company is desperate to bring Windows 7 and Windows 8 users onto Windows 10, but there is a fine line between desperation and trust which the company has crossed many times.
Also Read: