Unfortunately, Yes.
Despite Adobe's best efforts, Flash is not safe anymore for Internet security, as a recent zero-day Flash exploit has been identified.
Just Yesterday Adobe released its monthly
patch update
that addressed a total of 69 critical vulnerabilities in Reader, Acrobat, including 13 critical patches for Flash Player.
Now today, Security researchers have
disclosed
a new zero-day vulnerability in fully patched versions of Adobe Flash, which is currently being exploited in the wild by a Russian state-sponsored hacking groups, named "
Pawn Storm
".
NO Patch For Latest Flash Exploit
That means, even users with an entirely up-to-date installation (versions 19.0.0.185 and 19.0.0.207) of the Flash software are also vulnerable to the latest zero-day exploit.
Luckily, for the time being, this exploit is only being used against Government agencies and several foreign affairs ministries from around the globe.
However, now, when the zero-day vulnerability is publicly known to everyone, hackers could exploit it to target innocent Flash Player users too.
Adobe has been notified of latest discovery and researchers are also working with them to address this flaw.
Readers are advised to disable or completely uninstall Adobe Flash Player immediately.
"OYE Flash! Enough is Enough", said The Internet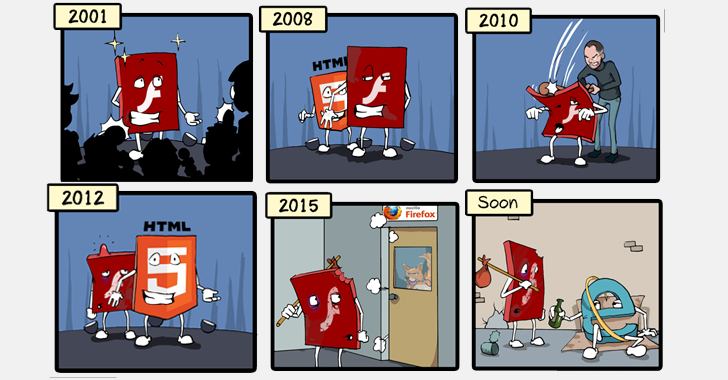 Adobe Flash Player is dead and its time has passed. In January this year, YouTube moved away from Flash for delivering videos.
In between, Flash made an effort to beef up its security in an effort to justify its existence.
However, things got a bit heated when Firefox became aware of a
critical security flaw
and blocked the Flash plugin entirely.
Facebook's Security Chief publicly called for Adobe to announce a kill-date for Flash and Google Chrome has also begun blocking auto-playing Flash ads by default.