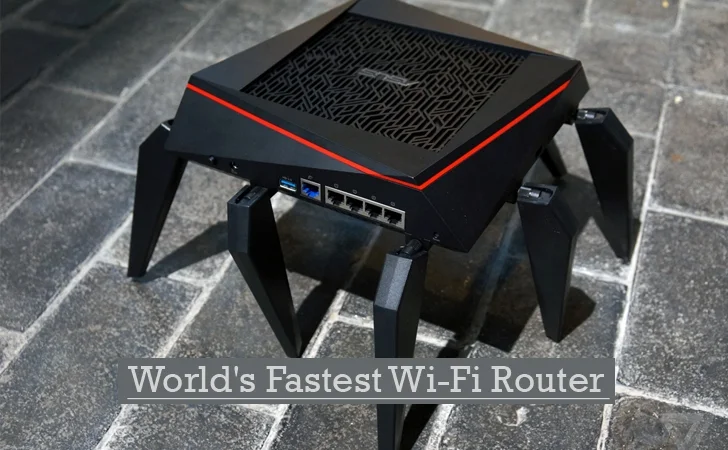 In above picture, Have you noticed those numerous crazy spikes?
The Device looks like an Alien artifact, which is actually the World's fastest wireless Wi-Fi router for the Game of Thrones generation.
Unveiled at IFA 2015, Asus has
launched
its uniquely designed
RT-AC5300 Wi-Fi router
, which they said would offer the fastest connection speed ever.
Asus RT-AC5300 Wi-Fi router has Eight external dual-band antennas that promise to deliver ultra-wide area coverage, reaching up to 500 square meters with absolute signal stability.
The router is compatible with all those geeks who work in networking arena or love to Play Online Games and want stream 4K resolution videos.
Specifications Of Asus RT-AC5300 Wi-Fi router
The New Tri-Band Router:
Delivers up to 1,000Mbps from the 2.4GHz band, and 2,167Mbps from each of the 5GHz bands (total 5334Mbit/s)
Supports USB ports 2.0 and 3.0 versions.
Equipped with Broadcom's NitroQAM/TurboQAM technologies to allow users to prioritize bandwidth for certain tasks.
More Features Include:
AiRadar beamforming
Tri-Band Smart Connect
Multi-user MIMO
Link Aggregation
Trend Micro's AiProtection
AiCloud 2.0
Unfortunately, no details on pricing have been released as yet, but ASUS says the RT-AC5300 will hit stores before the year is out.
Other Tech Companies have also launched their enhanced versions of routers, including Google.
Earlier last month, Google launched '
OnHub Wi-Fi Router
', a $200 router with a snazzy design that supports the Internet of Things as well as other smart devices.
Image Credit: The Verge.