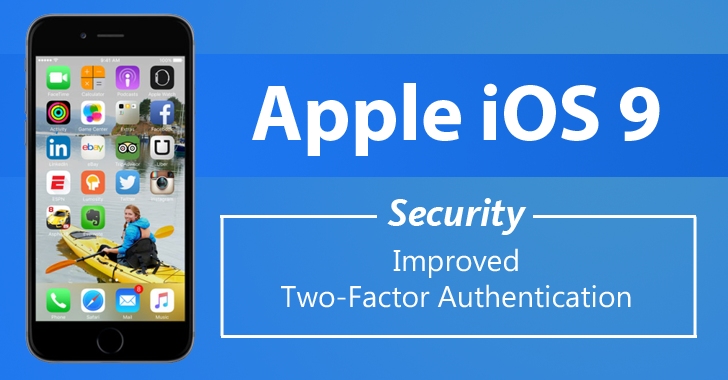 Apple iOS 9, codenamed Monarch, will be available to the world on September 16th.
While most of the upgrades on iOS 9 focus on making devices:
Faster
Smarter
Secure
and more efficient.
Today we are going to discuss the improved Two-Factor Authentication (2FA) pumped within the new iOS operating system.
WHAT'S NEW AND HOW IT WORKS
Apple has strengthened the foundation of iOS 9 and further of your device by modifying the operating system with an improved two-factor authentication built into it.
As the two-factor authentication structure lies within the operating system, this makes the device's Apple ID even harder to break.
2FA secures your Apple ID by acting as an additional support to protect your data on your device, preventing any intrusion to occur on your device.
Also, when you have more than one devices running Apple's operating system, 2FA enables sign-in on a new device in a streamlined manner…
...Besides verifying your identity by entering your password Apple will generate a six-digit verification code in the next step that is either displayed on your Apple device through which you are logging in or you can choose to get it through a SMS or via phone call.
Things to pay attention to:
Remember your password and set up a device passcode on all your devices.
Remember to keep your devices secure from any external threat like theft.
Remember to update your trusted devices on time.
All of this makes it easier for you and difficult for the intruder to gain access to your information.
We've been saying improved and robust 2FA comes with iOS 9, yes, it has improved and follows a different method of verifying you and building trust.
If you are an iOS user and want to get the know hows about your device's security follow the
Apple support
explaining the same.
BENEFITS OF IMPROVED 2FA:
Apple ID is your identity on Apple's various services including iCloud, Apple Pay and many more.
The enhanced security features built into iOS 9 help you keep your Apple devices as well as Apple ID safe by:
Strengthening the Passcode that protects your devices
Improving Two-Factor Authentication that is built directly into iOS
These features make it harder for hackers, intruders or others to "gain unauthorized access to your Apple ID," said Apple.
After being victims of attacks in the past like '
Snappening
' and '
Fappening
' as well as threats like
iOS zero-day exploits
are able to capture user's password can be counted as few examples that support the new two-factor authentication.
Moreover, iOS 9 boasts of various improved features like battery optimization, several built-in apps and enhanced security for all the devices.
Apple also claimed that it is the most intelligent of the lot by providing you Proactive assistance Siri. The all new Proactive feature will offer contextual users suggestions based on their habits, location, or time of day.
As already mentioned, iOS 9 will be available to public from September 16 onwards. The operating system comes as a free update for all the users of iPhone 4s and later, iPod touch 5th generation and above, iPad 2 and above and iPad mini and later.