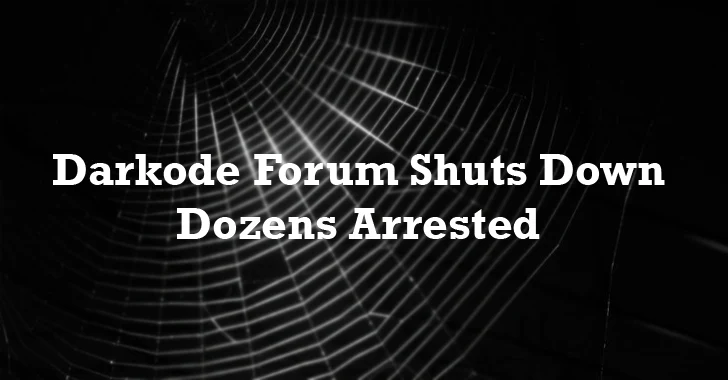 The FBI and other law enforcement agencies have
arrested more than 70 people
suspected of carrying out cyber criminal activities associated with one of the most active underground web forums known as
Darkode
.
Darkode
, also used by notorious
Lizard Squad
, was an online bazaar for cyber criminals looking to buy and sell hacking tools, botnet tools, zero-day exploits, ransomware programs, stolen credit cards, spam services and many illicit products and services.
Darkode had been in operation since 2007 before law enforcement authorities seized it this week as part of an investigation carried out in 20 different countries.
"We have dismantled a cyber-hornet's' nest...which was believed by many, including the hackers themselves, to be impenetrable," said U.S. Attorney David J. Hickton.
The crackdown, which the FBI dubbed Operation Shrouded Horizon, was initiated two years ago by its counterparts in Europe, Brazil and law enforcement agencies in more than 20 countries.
So far at least 12 suspects have been arrested in the United States, and around 28 people are known to have been arrested on Tuesday in other countries including Germany, Denmark, the UK, India, Romania, Sweden, and Israel.
According to the Department of Justice, the operation conducted by the authorities was "the largest coordinated international law enforcement effort ever directed at an online cyber-criminal forum."
The Suspects Arrested
Some of the suspects arrested in the United States in association with Darkode include:
Morgan C. Culbertson, 20, from Pittsburgh, with online moniker "Android," allegedly designed and sold a malicious program called Dendroid that steals data from Google Android phones.
Eric L. Crocker, 39, from Binghamton, New York, reportedly made use of a Facebook Spreader to infect Facebook users with botnet malware and sold the botnet to spammers for spreading spam.
Naveed Ahmed, 27, of Tampa, Florida, has been charged with maintaining a spam botnet to victimize millions of cell phone users.
Phillip R. Fleitz, 31, of Indianapolis, has been charged with maintaining a spam botnet to victimize millions of mobile phone users.
Dewayne Watts, 28, of Hernando, Florida, has been charged with maintaining a spam botnet to send spam messages to millions of cell phone users.
Daniel Placek, 27 from Glendale, Wisconsin, has been charged with different conspiracy charges for creating the Darkode forum and enabling the crimes.
Rory Stephen Guidry of Opelousas, Louisiana has also been accused of selling botnet access on Darkode.
This is just the beginning, as the operation is ongoing which will result in more arrests from different countries. In June last year, the authorities took down the
GameOver Zeus
but the botnet again came into operation with more nasty features just after a month.