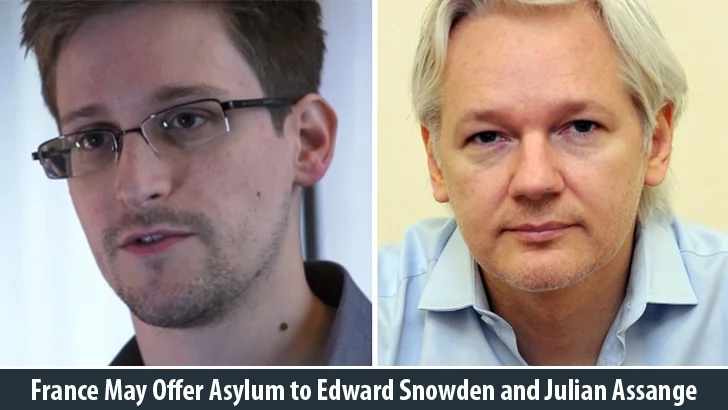 In wake of the latest revelations about the
National Security Agency (NSA)
global spying on country's leaders, France may decide to offer political asylum to whistleblowers
Edward Snowden
and
Julian Assange
, as a "
symbolic gesture
."
Former
NSA
contractor
Edward Snowden
, who is facing criminal espionage charges in the U.S., has remained in Russia for almost two years after exposing the United States government's worldwide surveillance programs and he awaits responses from two dozen countries where he'd like to live.
WikiLeaks Founder Julian Assange has remained in the Ecuadorian embassy for three years in London to avoid extradition to Sweden, where Assange is facing sex crime allegations.
French Justice Minister Christiane Taubira
told
French news channel BFMTV on Thursday that
if France decides to offer both of them asylum, she would "absolutely not be surprised."
Recent WikiLeaks report claimed that the United States had been spying on French President Francois Hollande and his two predecessors, along with members of their administrations from 2006 until 2012, which according to Taubira, was an "absolutely unspeakable practice."
In response to this WikiLeaks report, the French Defense Council released a statement saying the spying is unacceptable and the country will not at all tolerate "any action jeopardizing its security," and also suggesting it was already aware of the spying allegations.
Taubira also said it would be a "symbolic gesture" to offer asylum to Snowden and Assange, while adding that the decision is not hers, but it is up to the French prime minister Manuel Valls and the president Francois Hollande to decide.