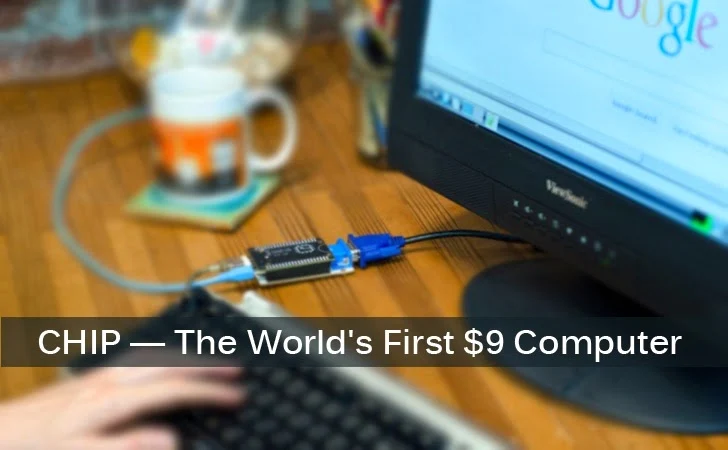 Wait! What? A $9 computer? This is something magical.
A Californian startup lead by Dave Rauchwerk is currently seeking crowdfunding on Kickstarter to create a computer that will cost as much as $9 (or £6).
The new microcomputer, dubbed CHIP, is a tiny, Linux-based, super-cheap computer that's described as being "built for work, play, and everything in between!"
Project 'Chip' that hit
Kickstarter
on Thursday has already blown its target goal of $50,000 to raise over $1 Million from almost 19,638 people at the time of writing with 26 days left in its campaign.
Let's have a look on what does this $9 buy you?
And the answer is a lot — more than what you could expect for just $9.
CHIP packs a 1GHz R8 ARM processor, 4GB of internal flash storage, 512MB of DDR3 RAM, Bluetooth, and Wi-Fi — something you do not find in even the modern microcomputer, Raspberry Pi.
If look at the output front of the CHIP, it features a single full-sized USB port, headphones output, microphone input, a composite video output (with options for VGA and HDMI via an adapter) that even supports older televisions, and a micro USB that supports OTG.
You just have to attach this Raspberry Pi-based motherboard to a mouse, keyboard, or game controller for more functionality or connect to a monitor via an adapter for VGA or HDMI cables.
A whole lots of applications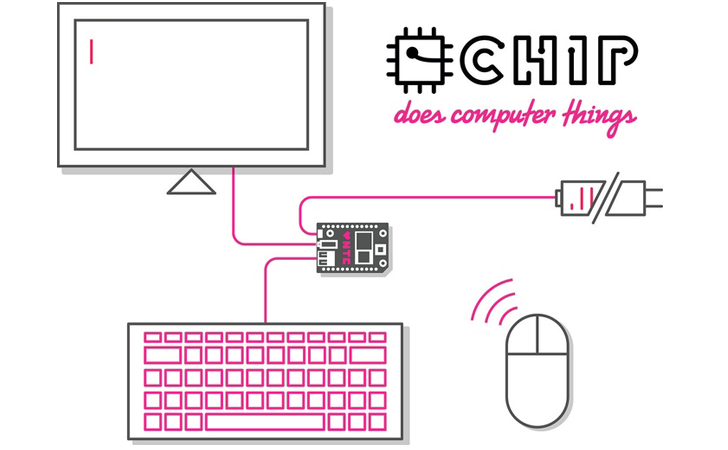 The CHIP can access thousands of open source applications such as Chromium for browsing the Web, LibreOffice for editing documents and spreadsheets, VLC Media Player for playing audios and videos, and other programs for coding, torrenting, and photo editing, among others.
You can even download additional applications and programs as long as you do not run out of memory.
The CHIP is the second project Next Thing Co. has crowdfunded via Kickstarter. The company's first project funded was a digital camera known as Otto powered by the Raspberry Pi.
The idea behind the CHIP is to put this super-cheap computer into the hands of as many people as possible including students, teachers, makers, hackers, grandparents, children, and inventors to surf the Internet, play games, save documents and do other computer things — all for $9.
Book your CHIP Now
The CHIP is scheduled to ship out to backers in December of this year, with worldwide availability expected to ship in May 2016 if everything goes according to plan.
If you are interested to have one, you can pre-order the basic CHIP at $9 over at Kickstarter. Moreover, interested backers are left with 26 days to join the $9 computer movement.