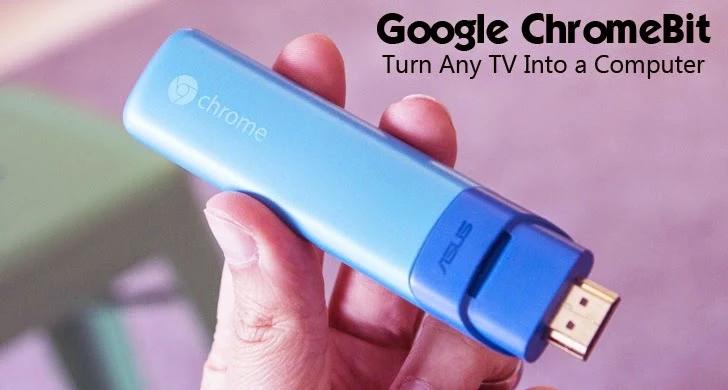 Imagine
— reaching into
your pocket
— and pulling out a
computer
! Google has made it possible to put your whole computer into your pocket by introducing a whole new kind of Chrome device — a tiny stick that plugs into HDMI port of any display.
Dubbed
ChromeBit
, a fully featured computer-on-a-stick from Asus that Google promises to retail for less than $100 when it comes out this summer. You just need to plug a Chromebit right into your TV or any monitor in order to turn it into a full-fledged
Chrome OS-based
computer.
Google Chromebit is portable with an impressive look and will be available in three attractive colors — silver, blue and orange. It has a smarter clinch on the business end so that a user can easily plug it into practically any HDMI port without the need of any extension cable.
This tiny little Google ChromeBit stick packaged with:
Rockchip RK3288 (with quad-core Mali 760 graphics)
2GB of RAM
16GB of solid state storage memory
a single full-size USB 2.0 port
Bluetooth 4.0
Smart Ready controller
WiFi 802.11 ac support
ARM Mali 760 quad-core GPU
Although Google Chromebit will not be the most powerful computer you could plug into your TV, it should not be too bad for the browser-based operating systems. Google believes that Chromebit will be of great use in schools and small businesses due to its price and easy manageability.

$149 CHROMEBOOK
In addition to Chromebit, Google also announced several cheap Chrome devices, including Haier Chromebook 11 (available online at Amazon) and Hisense Chromebook (available at Walmart). Both are 11.6-inch Chromebooks will be available at $149, making them cheaper and affordable than most smartphones.
The basic specifications for the Haier and Hisense Chromebooks are essentially the same with 2GB of RAM, feature two USB ports, 16GB solid flash storage, SD Card reader and HDMI output, as well as 720p webcam and WiFi and Bluetooth antennas.

$249 CHROMEBOOK FLIP
The technology giant also announced that ASUS plans to launch a new "Chromebook Flip" convertible with the same internals later this spring for $249. Chromebook Flip will come with a 10.1-inch touchscreen display that flips all the way around so the device can be used in tablet mode.