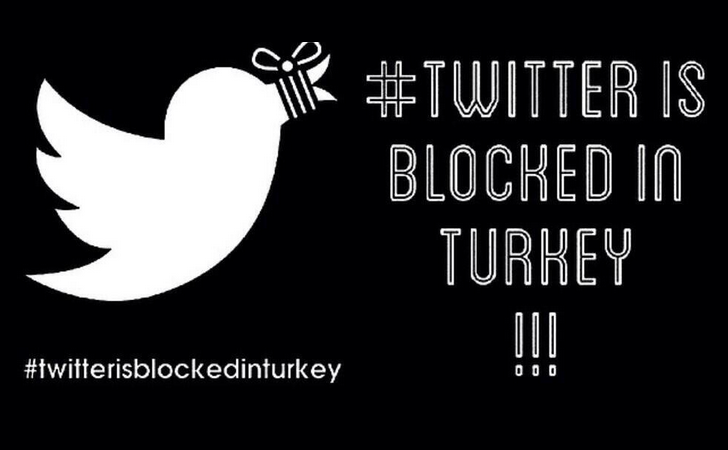 Twitter, the biggest Social Media platform used for vital communication is now banned in Turkey from the last few days, after Prime Minister Recep Tayyip Erdoğan promised to root out the social media service during an election rally this week with the help of a court order.
"Twitter and so on, we will root them out. The international community can say this or that – I don't care. They will see the power of the Turkish Republic."
After the ban imposed on Twitter late on Thursday, millions of Turkey users began using Google's DNS service to bypassing censorship, that briefly helped Turks stay connected to Twitter.
Turkey Government is trying to close all the possible loopholes that had allowed users to circumvent the ban and finally today the authorities have also blocked the
Google DNS
service (8.8.8.8 and 8.8.4.4), However the number of tweets jumped 138% in the last 24 Hours and almost 2.5 million tweets have been posted from the country after the ban imposed.
Why Turkey Government Banned Twitter?
According to media reports, Earlier this month a voice recording of the prime minister was leaked on YouTube and Twitter, which include the audio of Prime Minister Recep Tayyip Erdoğan instructing his son to dispose of large amounts of cash in the midst of a police investigation.
Erdogan has dismissed most of the audio recordings as a vile montage put together by his political rivals. Twitter reportedly refused to delete incriminating audio of him. s;"Twitter has been used as a means to carry out systematic character assassinations by circulating illegally acquired recordings, fake and fabricated records of wiretapping," the prime minister's office of public diplomacy said in a statement.
Turkey has blocked access to YouTube in the past, but this is the first ban on Twitter, which is hugely popular in the country.
Use alternate DNS: Turkey users can use following alternate DNS servers to access Twitter:
Level31 209.244.0.3 209.244.0.4
Google2 8.8.8.8 8.8.4.4
Comodo Secure DNS 8.26.56.26 8.20.247.20
OpenDNS Home3 208.67.222.222 208.67.220.220
DNS Advantage 156.154.70.1 156.154.71.1
Norton ConnectSafe4 199.85.126.10 199.85.127.10
GreenTeamDNS5 81.218.119.11 209.88.198.133
SafeDNS6 195.46.39.39 195.46.39.40
OpenNIC7 216.87.84.211 23.90.4.6
Public-Root8 199.5.157.131 208.71.35.137


SmartViper

208.76.50.50 208.76.51.51


Dyn

216.146.35.35 216.146.36.36


censurfridns

.

dk9 89.233.43.71 89.104.194.142
Hurricane Electric10 74.82.42.42
puntCAT11 109.69.8.51
Access Twitter via SMS:

Turkish users can also send Tweets using SMS. "

Avea

and Vodafone text START to 2444. Turkcell text START to 2555

."
#TwitterisblockedinTurkey
is trending globally as free-speech supporters around the world voiced their concerns. Some related tweets are shown below: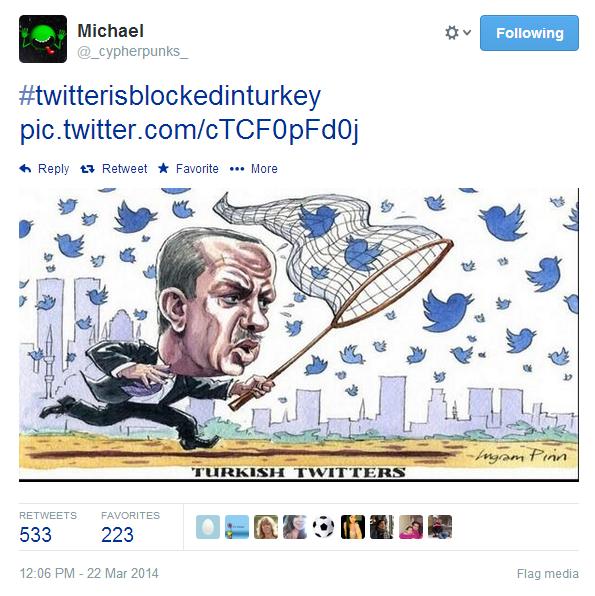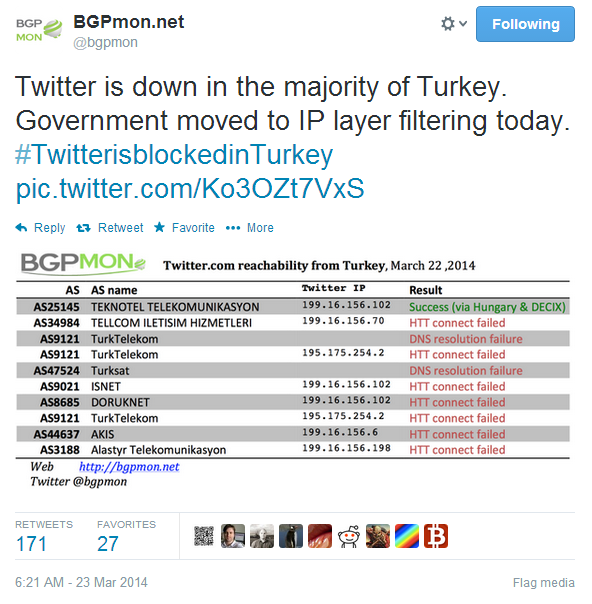 TWITTER Hired LAWYER to fight Turkey Government
However, President Abdullah Gul is also in talks with Twitter to reach a speedy resolution to the block on the website in Turkey.
Twitter has taken action against the Turkish government's blocking of access to it and hired a lawyer expert 'Gönenç Gürkaynak' in litigations related to Cyberlaw, who met with officials from Turkey's Telecommunications Authority (TİB) in Ankara on behalf of Tweeter.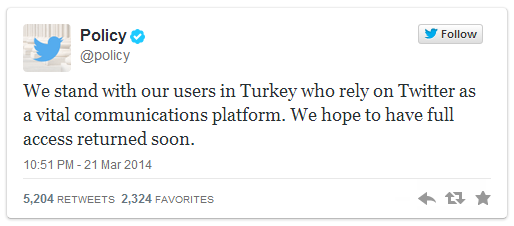 Union of Turkish Bar Associations (TBB)
filed a petition
in an Istanbul court for the lifting of the ban. "
A total ban on Twitter access is a violation of the European Convention on Human Rights, the Turkish Constitution and Law 5651 that includes Internet regulations. The TTB has applied to the courts for the immediate lifting of the ban. In addition, criminal complaints have been filed for those responsible for the ban ruling and the officials who applied the ban,
" TBB head Metin Feyzioğlu said in a statement.
SHARE AND SPREAD THE WORD!