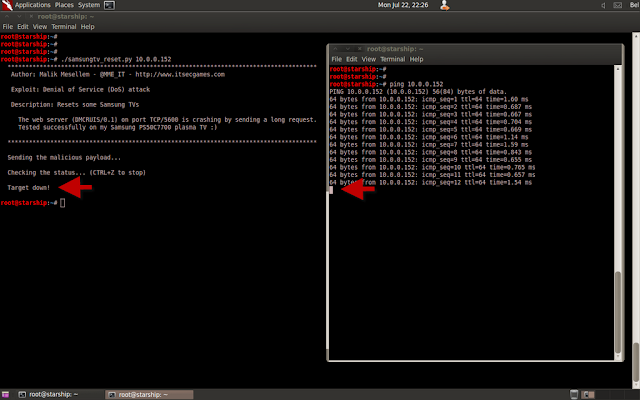 A vulnerability in the latest firmware of the network-enabled Samsung TV models allows potential attackers to crash the
vulnerable
devices using Denial of Service (
DoS
) Attack, according to security researcher
Malik Mesellem
.
According to Malik, The web server (DMCRUIS/0.1) installed on Smart TVs on port TCP/5600 can be crashed to reboot the device, if attacker will send a long HTTP GET request on TV's ip address.
Malik successfully tested the exploit on his Samsung PS50C7700 plasma TV, as shown in the video demonstration below:


In the Demo, The TV is connected by ethernet cable to a home network, and after running the exploit against TV's ip address - A few seconds later, the TV would restart and repeat the process.
This means that a potential attacker only needs to obtain access to the LAN that the TV has joined, in order to attack it. This can be done either by breaking into a wireless access point or by infecting a computer on the same network with malware.
Malik discovered the flaw on July 21st, 2013, published a
proof-of-concept exploit
on his website and vulnerability dubbed
CVE-2013-4890.
I think, now we need firewall or antivirus protection for our television set too.
Samsung did not immediately return a request for comment sent via email.