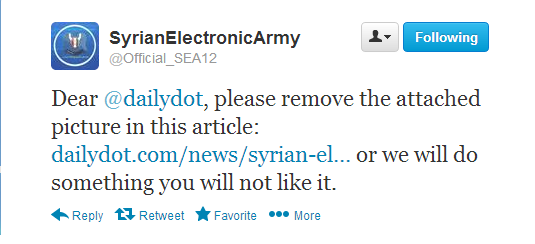 Pro-Assad hacker group the
Syrian Electronic Army
claims to have breached the online news portal "
Daily Dot
" and deleted an article with a caricature of Syrian President Bashar al-Assad.
SEA hackers gave an advance warning to Daily Dot editorial team via
twitter
, said "
Dear @dailydot, please remove the attached picture in this article: https://www.dailydot.com/news/syrian-electronic-army-tango-me/ … or we will do something you will not like it.
"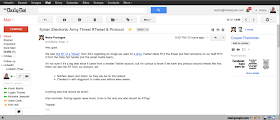 But Daily Dot refused to comply, and hackers broke into the Gmail account of one of its staff, then into the site's administration panel and removed the article in question altogether, as challenged !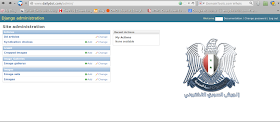 The attackers have published several pictures, including ones of emails sent out to Daily Dot staff about the Syrian Electronic Army's threat. Staff have been warned that the hackers use phishing emails to trick them into handing over their account credentials.
"
The stupid @dailydot administration panel.. we said 'please' it's your fault
," the Syrian Electronic Army tweeted.
Just today same hackers also managed to hacked into
Free calling app "Viber", defaced
their website and leaked the database. Last weekend Millions of Phone Book records were stolen from
Truecaller
Database by SEA.