Syrian Electronic Army strike again! This time hacking group hijack Twitter accounts and a Facebook page of Sky News Arabia and also hack their Emails.
The accounts affected were the channel's main twitter handle @skynewsarabia and the @skynewsarabia account used for cultural and entertainment news, as well as the Facebook page facebook/skynewsarabia. Sky News regained control of the hacked accounts some how later.
During an Interview with hackers at Syrian Electronic Army, hackers said that they first target Sky News's Email panel which is using Outlook Web App. Below is the screenshot of hacked inbox: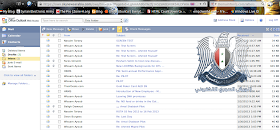 Then it was too easy for hackers to reset the password of Twitter accounts and Facebook pages attached to that mail using Password forget option.

Hackers said, they attack because of the bias that the foreign media has against Syria's President Bashar al-Assad and their support for the rebels in the Syrian conflict.