Famous Bangladeshi hacker TiGER-M@TE known for his big defacements strikes again! This time he teams up with another hacker 'h311 c0d3' for another big defacement campaign.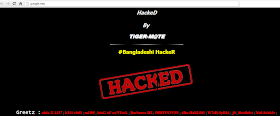 According to mirror records on Zone-H, These hackers managed to deface Malawi Google, Yahoo, MSN, Windows and many more top domains using DNS poisoning attack.
During talk with '
The Hacker News
', hackers disclose that they collectively hacked into Malawi (.mw) Domain Registrar website and also target Master and Slave DNS servers.
The attackers changed the authoritative DNS records for the affected domains, to point the domain names to their own web server with a deface page hosted on it.

All this could have been much worse if the attacker had other goals in his mind rather than defacing famous websites. Imagine how many accounts could have been compromised, if these websites were redirected to a phishing page, instead of a defacement page.
At the time of reporting, Domain Registrar fix the DNS server and all affected domains are pointed back to original servers. You can find all defacement mirror records for
TiGER-M@TE
and
h311 c0d3
here.