A notorious group of Internet trolls says it has unleashed a worm that has littered Tumblr blogs with inflammatory and racist posts. A massive bug affecting some 8,600 unique Tumblr users. Gay Nigger Association of America, took responsibility for the attack.

The infected post begins: "Dearest 'Tumblr' users ,This is in response to the seemingly pandemic growth and world-wide propagation of the most fucking worthless, contrived, bourgeoisie, self-congratulating and decadent bullshit the internet ever had the fortune of faciliating."
How worm work ?
Worm took advantage of Tumblr's reblogging feature, meaning that anyone who was logged into Tumblr would automatically reblog the infectious post if they visited one of the offending pages. Naked Security said.
In a message posted to the company's official Twitter account, the blogging site said, "
We are aware that there is a viral post circulating on Tumblr. We are working to resolve the issue as swiftly as possible. Thank you.
"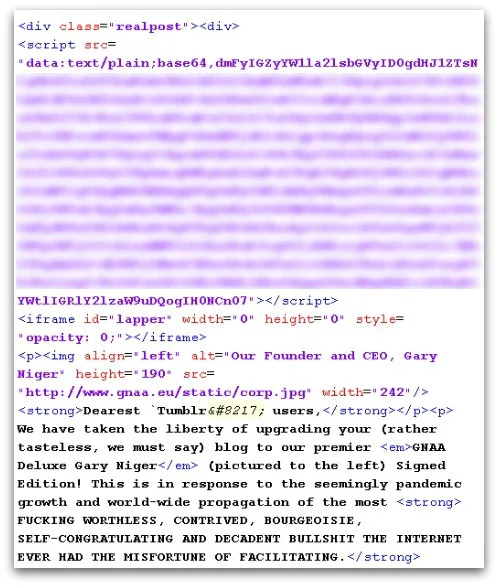 The Gay Nigger Association of America (GNAA)
is an anti-blogging Internet-trolling organization. They have trolled several prominent websites and Internet personalities including Slashdot, Wikipedia, CNN, Barack Obama's campaign website, Alex Jones, and prominent members of the blogosphere.
They have also released software products and leaked screenshots and information about upcoming operating systems. In addition, they maintain a wiki-based site dedicated to Internet commentary and a software repository.
The micro-blogging site says its engineers are working on a fix.