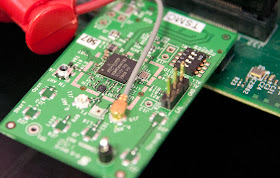 Security researcher Andres Blanco from CoreSecurity discovered a serious vulnerability in two Wireless Broadcom chipsets used in Smartphones. Broadcom Corporation, a global innovation leader in semiconductor solutions for wired and wireless communications.
Broadcom BCM4325 and BCM4329 wireless chipsets have been reported to contain an out-of-bounds read error condition that may be exploited to produce a denial-of-service condition. Other Broadcom chips are not affected. The CVE ID given to issue is
CVE-2012-2619
.
In advisory they reported that this error can be leveraged to denial of service attack, and possibly information disclosure. An attacker can send a RSN (802.11i) information element, which causes the Wi-Fi NIC to stop responding.
Products containing BCM4325 chipsets:
Apple iPhone 3GS
Apple iPod 2G
HTC Touch Pro 2
HTC Droid Incredible
Samsung Spica
Acer Liquid
Motorola Devour
Ford Edge (yes, it's a car)
Products containing BCM4329 chipsets:
Apple iPhone 4
Apple iPhone 4 Verizon
Apple iPod 3G
Apple iPad Wi-Fi
Apple iPad 3G
Apple iPad 2
Apple Tv 2G
Motorola Xoom
Motorola Droid X2
Motorola Atrix
Samsung Galaxy Tab
Samsung Galaxy S 4G
Samsung Nexus S
Samsung Stratosphere
Samsung Fascinate
HTC Nexus One
HTC Evo 4G
HTC ThunderBolt
HTC Droid Incredible 2
LG Revolution
Sony Ericsson Xperia Play
Pantech Breakout
Nokia Lumina 800
Kyocera Echo
Asus Transformer Prime
Malata ZPad
The DoS issue does not in any way compromise the security of users data. Broadcom has a patch available that addresses the issue and makes devices that include the BCM4325 and BCM4329 immune to a potential attack. The Proof of Concept Code and technical details are available at
Advisory
.