According to the Verizon 2012 Data Breach Investigations
Report
released on Thursday, Hacktivists stole more data from large corporations than cybercriminals in 2011, according to a study of significant security incidents. The report surveyed 855 data breaches, where a combined 174 million digital records were purloined.
Although a large number of records were compromised in 2011, the year was only the second-highest since Verizon began collecting breach information in 2004. "
While a few 2011 breach victims estimated their losses to be in the hundreds of millions of dollars, most did not get near to that amount
," it said. "
In fact, the large majority of them emerged relatively unscathed from their troubles.
"
In the report, Verizon, pointing to the "Arab Spring" protests, called 2011 "a year of civil and cultural uprising."Certainly, hacktivists such as LulzSec did hog a good deal of the spotlight last year, mostly by cultivating charismatic online personas and popular Twitter feeds, where hackers could interact with their fans.
Nearly all the data stolen by hacktivist groups had been taken from larger organizations, and the proportion of breaches tied to hacktivism-related motives had risen to 25 percent.The study pointed out that a low-profile brand or company was less likely to draw the attention of these groups. However, they were instead attacked by money-driven cybercriminals looking for "opportunistic attacks against weaker targets", which presented a lower risk.
As in previous years, the Verizon report found that cybercrime attacks are global in nature. Indeed, attacks launched in 2011 that resulted in breaches originated in at least 36 countries, versus just 22 countries in 2010. In 2011, the vast majority (70%) of attacks came from Eastern Europe, while just one-quarter were launched from the United States.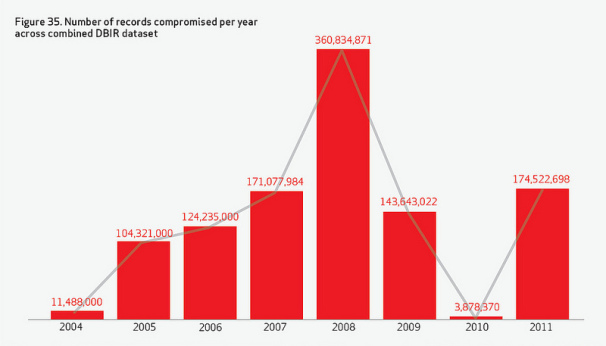 Verizon teamed up with several law enforcement agencies around the world to prepare its report. Those agencies include the Secret Service, the Dutch national high-tech crime unit, the Australian federal police, the Irish Reporting & Information Security Service and the Police Central e-Crime Unit of the London Metropolitan Police.