Fake LinkedIn Emails Link to Blackhole Exploit Malware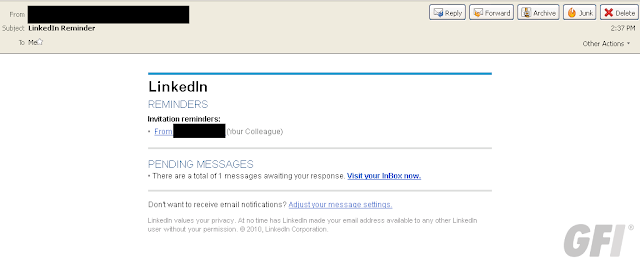 Cyber Criminals have been busy pumping out spam emails that pose as legitimate LinkedIn notices, enticing you to click on a link in order to read what message some random stranger has left for you. The incident was identified by researchers at security provider
GFI Labs
.
If your Click the links, It will send you directly to a site housing a blackhole exploit kit that will attempt to take advantage of any system vulnerabilities in order to infect your PC with malware, Exactly which attempts to drop Cridex onto the PC.
Cridex malware variant from the wild caught on camera that shows CAPTCHA tests used by some online services are still weak and can be broken by malware.
The spammers did a good job crafting the bogus LinkedIn notices LinkedIn logo at the top left, familiar blue coloring, no obvious spelling mistakes, disguised links and even a spoofed sender's address it's pretty easy to spot the fake emails when you see them.
If you have a LinkedIn account, you may want to think twice about clicking links within any emails that claim you've received a new message on the social networking site geared towards professionals.