We Received latest reports from Iran ,Governments has blocked access to the major sites plus websites using certain Https protocol like Gmail, Google ,Yahoo. On the eve of the anniversary of the revolution that overthrew the country's monarchy and replaced it with an Islamic republic. At the same time nobody can even use banking websites in Iran because all of them using "Https" to encode the sensetive data .
As well as Yahoo, Gmail, Google and all sites that rely on the search giant's API such as WolframAlpha. Sites such as BMI.ir , BPI.ir and Parsian-Bank.com are also apparently banned.
There is Online Service
https://www.blockediniran.com
, where you can check that Is there any site blocked in Iran or Not ? We check the "
google.com
" as shown,but it showing that site is Working.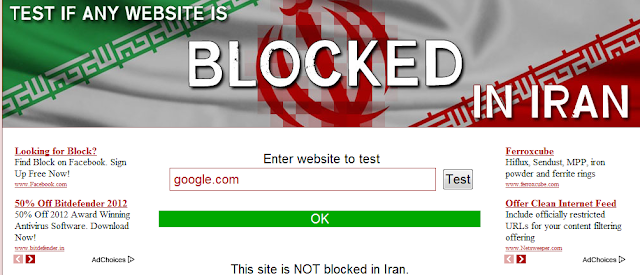 This Condition until Esfand, next month in Persian calender after the 33rd anniversary of the Islamic Revolution .