#Enter_at_your_own_Risk

Cyber Awareness Magazine Issue January edition Released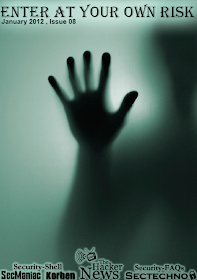 As we promised last month,
The Hacker News
along with
Security-FAQs, SecManiac, Korben, Security-Shell, SecTechno
have come together to bring you an outstanding array of internet security and hacking information. You can
Download Here
Special Magazine January 2012 Edition. Previous Editions
available Here
.
Sit back, read and enjoy :
Lee Ives
from London, England talk about internet security for your children and what to watch out for and how to protect them and yourself. Security Expert,
Pierluigi Paganini
takes us on a visit to China and makes us wonder just how influential China's hacking is on world internet security. Read and decide for yourself.
Get political emotions warmed up reading "
Anatomy of a Revolution
" by our own editorial staff.
Mourad Ben Lakhoua
takes us on a scary journey of what new Malwares are lurking about and what to expect in the future.
Avram Marius Gabriel
, who works under the pseudonym "
d3v1l
", gives us a look at an emerging technical society as like minded techies in Romania come together to share and learn. Get mad and take action as you read how your internet privacy and freedoms are about to be taken away in our editor
Patti Galle
's article on
SOPA
…….coming to your personal rights soon.
Manuel Dorne
, administrator from Korben gives us a look at FIREFOX security tools. A must for any techie interested in "how to." And finally, a good read about politics in general in "
No Turning Back
" by our editorial staff.
Welcome to the January Special Edition…..let us know what you think, learn, and hope for! Connect With us on
Google+
,
Twitter
and
Facebook
.