Fraud communities owned and exposed by

Happy Ninja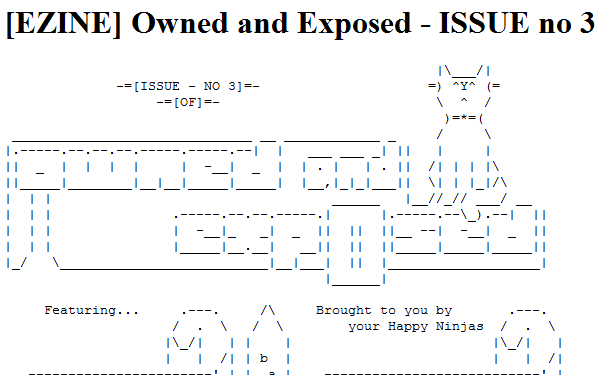 The
Happy Ninjas
Hackers Release a Ezine "
Owned and Exposed - ISSUE no 3
" on
Exploit-Db
. They claim to hack various German and International fraud scenes and Publish there all details online in Ezine. They said "
Operation Antisec : The original Antisec Movement was brought to life by actualhackers and targeted full disclosure and the corporate securityindustry. Publishing gigantic amounts of (corporate) data on theinternet does exactly the opposite: It provides the security industrywith the attention they need and hence new customers.
"
"
Money is the root of allevil" as the proverb has it; and it's why fraud communities do comeback after we have owned and exposed them
" He added. Most the famous fraud sites got hacked by them , such as:
St0re.cc
El-Basar.biz
Swissfaking.net
Vpn24.org
Unique-Crew.net
Undercover.su
Secure-Host.in
Hackbase.cc
Zion-Network.net
Most of the IP addresses and Server Logs of Admin and Members of these Fraud communities got Exposed . Not Even this, Their login ID, Emails and Password also get pwned and Exposed by Happy Ninja.
He Added "
At least we think that those and especially this one will || \\cause enough fear for the feature and people will realize that there are still some guys left who continue to preservethe spirit of the underground, like real hackers used to. Hackers donot sell credit cards. Hackers hack, that means breaking intocomputer systems and striving for perfection. That's our opinion, evenif most don't believe that way. We ourselves will never stop hacking
."