Reality Based

Cyber Crime Novella

Explores Aftermath of Stuxnet Attack On Iran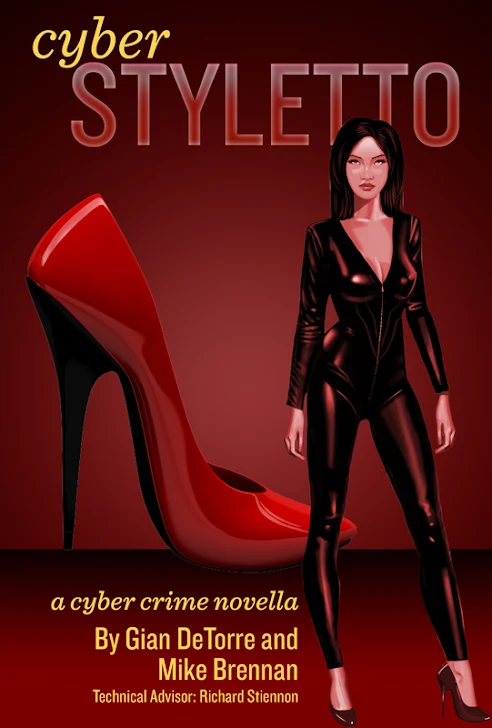 GRAND RAPIDS – Cyber Styletto is a new novella by a journalist, a writer, and a security expert who have pooled their talents to create an enthralling good read that is future forward and predictive. The facts are based on real vulnerabilities in the way the Internet is constructed.
Recent cyber security attacks using sophisticated malware (think Stuxnet) and social engineering techniques have raised the bar for defenders. Cyber Styletto pivots off these cyber events to educate and entertain. It is written as fact-based fiction.
The story comes from the minds of Gian DeTorre and Mike Brennan. DeTorre is the pen name of an award winning fiction writer and literary critic whose stories and reviews have been published worldwide.
"
Cyber Styletto is a new genre in literature, bringing the modern, secretive world of cyber espionage together with a good, old-fashioned thriller
," DeTorre said. I hope our audience has as much fun reading it as we had producing it.
Brennan has been a journalist for more than thirty years covering science, technology, and business for newspapers in the US. For the past decade he has been editor and publisher of MITechNews.Com.
The cyber security technology featured in the novella has been verified by security expert Richard Stiennon, Chief Research Analyst at IT-Harvest. Stiennon has been in the security field since 1995. He is the author of "Surviving Cyberwar" and technology consultant to Cyber Styletto, the first of a series of novellas that will chronicle today's very dangerous Internet world.
"
Sometimes it is difficult to explain the complexity of advanced cyber attacks. Cyber Styletto succeeds in highlighting the potential for abuse of our networked world by bad actors; and it does so in an entertaining good read!
"
Added Brennan: "
When I started working with Richard more than a year ago on what we thought would be a great science fiction tale, we had no idea that when we published it our fiction would turn to fact
," Brennan said. "
Our plot and many of the characters are ripped from today's headlines. The novella morphed from a good story to a great read when Gian joined the team. We believe we have written a story every cyber security professional and government policy makers should read carefully
."
The eBook sells for $2.99 and is available at
Smashwords.Com
The paperback sells for $13.37 and is available at
LuLu.Com
You can reach Brennan via phone at (616) 205-4320.
An illustrated paperback version will be released late summer.
Cyber Styletto:
Read it, learn it, stay secure.