Russian firm

Elcomsoft

unveils tool to crack BlackBerry encryption security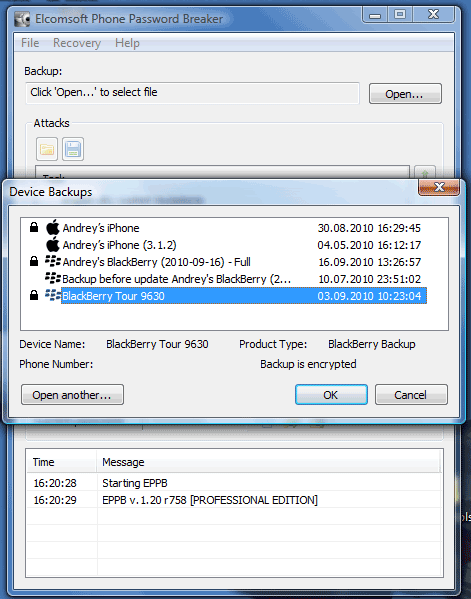 A Russian security company has upgraded a phone-password cracking suite with the ability to figure out the master device password for Research in Motion's BlackBerry devices. Elcomsoft said that before it developed the product, it was believed that there was no way to figure out a device password on a BlackBerry smartphone or PlayBook tablet. BlackBerry smartphones are configured to wipe all data on the phone if a password is typed incorrectly 10 times in a row, the company said.
"
ElcomSoft Phone Password Breaker
" does exactly what it says, enabling its users to recover plain-text passwords governing encrypted backups for BlackBerry smartphones and PlayBook tablets. (The password-breaking tool also works on Apple devices running iOS, such as iPhones and iPads.) The new feature is wrapped into Elcomsoft's Phone Password Breaker. It costs £79 ($123) for the home edition and £199 for the full-featured suite, which can also recover plain text passwords used to access encrypted backup files for Apple's iPhone, iPad and iPod Touch devices. To crack those passwords, a user does need to have the Apple device in hand.
The backup files contain sensitive data including call logs, SMS archives, calendars, photos, email account settings, a person's Web browsing history and more.Elcomsoft reserves some of its password-cracking software strictly to vetted law enforcement, such as its iOS Forensic Toolkit, which can extract passwords and decrypt a device's file system.