Sun

website 1000's users data stolen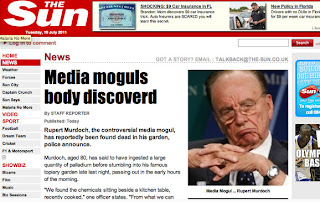 Britain's Rupert Murdoch-owned tabloid The Sun has sent a message to readers warning them that computer hackers may have published their data online after an attack on the paper's website last month. News International, News Group's parent company, issued a statement that said: "
We take customer data extremely seriously and are working with the relevant authorities to resolve this matter.We are directly contacting any customer affected by this.
"
Hacking group LulzSec claimed responsibility for the cyber attack, which forced Murdoch's British papers to pull their websites and culminated in The Sun's site being replaced with a hoax story reporting the mogul had died. The company said it had reported the matter to the police and the Information Commissioner.
The stolen information is believed to include names, addresses, dates of birth, email addresses and phone numbers. No financial or password data was compromised, the company said. On Monday, an 18-year-old suspected of being a spokesman for LulzSec and another hacking group Anonymous was
granted bail at a London court
after being charged with hacking into websites.