#OpBART and #Bart-Action : Anonymous hacks myBART, Leaks BART User Info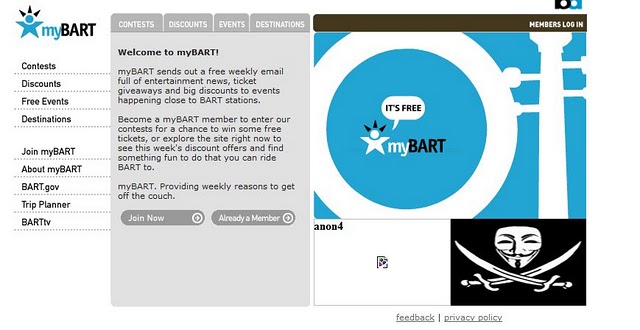 In reaction to BART's shutdown of cell phone service Thursday, Anonymous has taken to the Internet and begun #opBART and #opMuBARTek (a reference to the Egyptian president's shutting down that country's Internet service during protests) a multi-pronged series of actions designed to protest the Bay Area Rapid Transit's stifling of free speech. There will be a peaceful Anon-organized protest Monday at BART Civic Center Station at 5pm. Attendees are requested to wear either a red shirt or clothes with fake blood stains, and to bring video cameras.
On Sunday afternoon, it defaced
myBART.org
and leaked a myBART user info database.In a press release accompanying the data leak, Anonymous accused BART police of killing innocent passengers, violating people's right to protest, and preventing bystanders from using emergency services during the cell phone shutdown.
BART has issued a Press Release:
Press Release - Anonymous Operation BART
8:00 PM Saturday - August 13, 2011
This is just a brief release to clarify for the media what to expect from Anonymous on this Op. There is a more thorough Press Release from us here - https://tumblr.com/xjh42d529q
Anonymous will take the following actions over the next 48 hours.
1) We have begun at once a massive Black Fax and E-Mail Bomb action, where we will fill every inbox and fax machine at BART with thousands of copies of our message that this outage was unacceptable.
2) Tomorrow, Sunday - August 14, 2011 at High Noon Pacific Time we, Anonymous - will remove from the internet the web site of BART located at www.bart.gov for exactly six hours. That's twice as long as they shut off the cell phones for.
3) On Monday - August 15, 2011 at 5:00 PM Pacific Time there will be a physical protest at the Civic Center Bart Station. Expect us !
We sincerely hope that this series of actions will serve as a warning to BART and every public organization in the USA to NOT engage in this sort of dangerous and human rights violating behavior.
We Are Anonymous - We Are Everywhere - We Are Legion - We Never Forget - We Never Forgive - EXPECT US
It also accused myBART of storing member information poorly with "
virtually no security
" so that "
any 8 year old with a internet connection
" can steal it.