As part of its cyber-warfare operations, British spy agency MI6 has hacked into an al-Qaeda online magazine and replaced ''
bomb-making
'' instructions with a recipe for cupcakes, a media report said.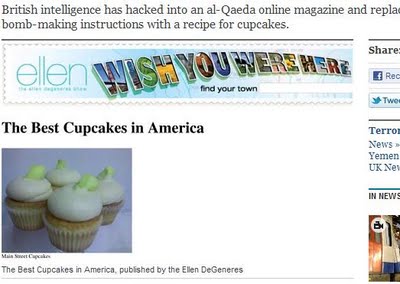 The operation was launched by MI6 in an attempt to disrupt efforts by al-Qaeda in the Arabian Peninsular to recruit "
lone-wolf
" terrorists with a new English-language magazine, 'The Daily Telegraph' reported.
When followers tried to download the 67-page colour magazine, instead of instructions about how to "
Make a bomb in the Kitchen of your Mom
" by "
The AQ Chef
", they were greeted with garbled computer code.
The code, which had been inserted into the original magazine by the British intelligence hackers, was actually a web page of recipes for "The Best Cupcakes in America" published by the Ellen DeGeneres chat show.
It said: "
The little cupcake is big again. Self- contained and satisfying, it summons memories of childhood even as it's updated for today's sweet-toothed hipsters.
"
It included a recipe for the Mojito Cupcake -- "
made of white rum cake and draped in vanilla buttercream
" -- and the Rocky Road Cupcake -- "
warning: sugar rush ahead!
" By contrast, the original magazine featured a recipe showing how to make a lethal pipe bomb using sugar, match heads and a miniature lightbulb, attached to a timer.
The cyber attack also removed articles by Osama bin Laden, his deputy Ayman al-Zawahiri and a piece called "
What to expect in Jihad
", the report said.