Sony BMG Greece Hack

, Complete Details Out !
Update :
10th Attack on Sony -->
Sony Ericsson Got Hacked by Idahca (Lebanese hacker Group)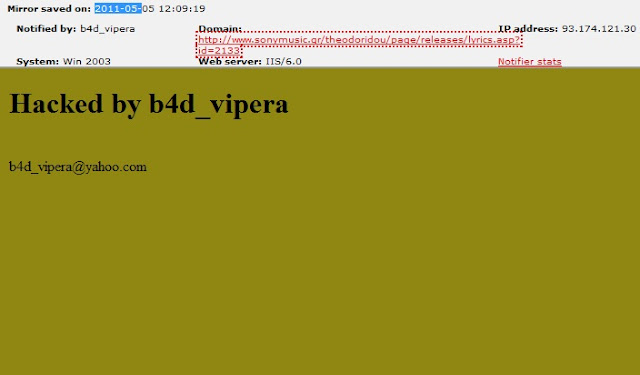 Yesterday , we have reported that On 5th May, 2011 - Sony BMG's Greek website was also got hacked. One of Them Provided the Full extract database from the site. b4d_vipera was the hacker who Deface the site using SQL injection method. There are 8385 users on this website. Sample of hacked Database was leaked at
https://pastebin.com/WqLysjiN . This was 7th Attack on Sony.
As from Source :
DB Detection: MsSQL no error (Auto Detected)
Method: GETType:
Data Base: SONYBMG
Table: USERS
Total
Rows: 8385
Fields are : u_id, u_usr , u_name, u_pwd , u_company , u_email , u_tel , FOREIGN_DOMAIN , u_regdate , u_lname