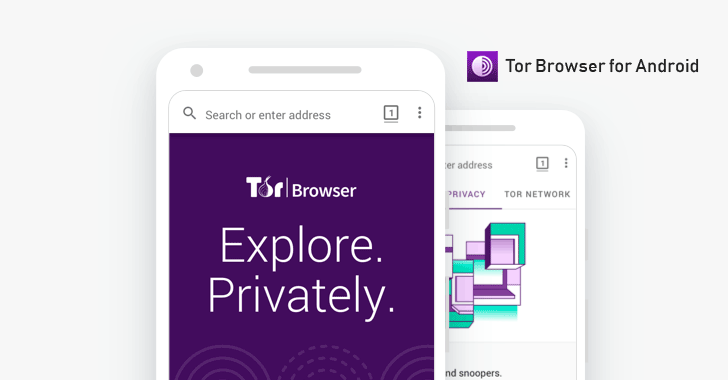 Wohooo! Great news for privacy-focused users.
Tor Browser, the most popular privacy-focused browser, for Android is finally out of beta, and the first stable version has now arrived on Google Play Store for anyone to download.
The Tor Project announced Tuesday the first official stable release of its ultra-secure internet browser for Android devices,
Tor Browser 8.5
—which you can now
download for FREE
on your mobile devices from Google Play Store.
Tor Browser is mostly used by privacy-focused people, activists, journalists, and even cyber criminal gangs to avoid government monitoring. It allows users to browse the Internet anonymously, by hiding their IP addresses and identity, through a network of encrypted servers that bounce their web requests around multiple intermediate links.
Access to Tor anonymity network was previously available on Android mobile operating system only through other apps or browsers like
Orbot
/
Orfox
app, but you can now use the official Tor Browser built on Firefox on your mobile device.
The first alpha build of Tor Browser was released by the Tor Project back in September last year, and since then, the developers have worked hard to provide the same protections users get on the desktop variant to the Android platform as well.
"Mobile browsing is increasing around the world, and in some parts, it is commonly the only way people access the internet," the Tor Project wrote in a blog post. "In these same areas, there is often heavy surveillance and censorship online, so we made it a priority to reach these users."
According to the Tor Project developers, Tor Browser for Android is not as complete as its desktop version, but you can see security features like no proxy bypass, enabled first-party isolation to block cross-site tracking and other anti-fingerprinting defenses.
"While there are still feature gaps between the desktop and Android Tor Browser, we are confident that Tor Browser for Android provides essentially the same protections that can be found on desktop platforms," the Tor Project said.
In the notification area of your Android device, Tor Browser gives a quick, "New Identity" button that allows you to immediately clean the instance of your Tor network, with various caches and other information, without reopening the app or restarting the Tor onion network.
Besides the Android release, the Tor Project also announced the release of a couple of new features in the latest Tor Browser version, like extra tabs, new logos, and user interface improvements.
The company also said the Tor browser would continue to be missing from the iOS platform, as Apple continues to restrict all third-party browsers and forces browser companies to use its own engine. However, iPhone and iPad users can still use
Onion Browser
to access the Tor network.