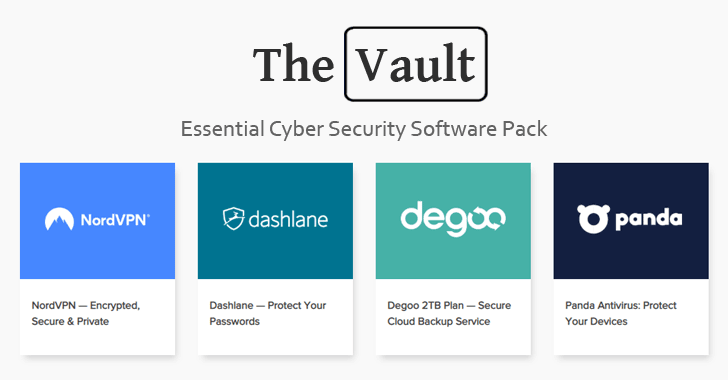 Major data breaches and cyber attacks are occurring at an alarming rate, and if you are still not using a VPN and password manager app, you are seriously out of excuses.
Not just VPN software and a password manager, cybersecurity experts also recommend using antivirus and backup solutions to protect your computers and precious data stored on them. Unfortunately, to cover these bases, one would typically have to spend at least $30 per month.
However, here we have great news for millions of The Hacker News readers.
Cybersecurity companies partnered with
THN Deal Store
have exclusively launched a new subscription package called —
The Vault
— that slashes the price for top security apps everyone needs to use.
At just $9.99 monthly subscription, you can now get licenses for four award-winning cybersecurity apps:
Dashlane
— usual price: $4.99 per month — is one of the most popular and secure password manager software. It makes it easy for users to sync their usernames and passwords between their devices.
Dashlane stores users' data in a military-grade vault with two-factor security. Besides, Dashlane allows users to generate new secure passwords and fill checkout forms with just one click.
NordVPN
— usual price: $12.95 per month — is a highly-rated service that helps users stay secure online, with double 2048-bit encryption and a built-in kill switch. You can connect to 3,521 worldwide servers in 61 different countries, and the company keeps no logs, to preserve your privacy.
Whether from accidental deletion, ransomware attack or hard drive failure, data loss occurs more often than you might think.
So, backing up your important data is always essential. Vault package also includes a 2TB of cloud storage from Degoo backup service provider that will keep your files secure.
Degoo
— usual price: $9.99 per month – is a the cloud storage platform that uses 256-bit AES encryption with automatic syncing and secure file sharing.
Finally,
Panda Antivirus
— usual price: $4.99 per month — helps avoid both malware and online fraud. Available on Windows, Mac, and Android, Panda uses artificial intelligence to detect threats.
That means it can block even brand new malware. The service also provides parental controls and can help locate missing devices.
All these subscription-based cybersecurity apps would typically cost you around $31.92 per month if purchased separately from their official websites.
However, with Vault, you can
get all four cybersecurity apps
for just $9.99 per month — that's a saving of about $264 per year.
Order now to get an instant security upgrade. Stay hidden. Stay secure. Stay safe. Stay prepared.