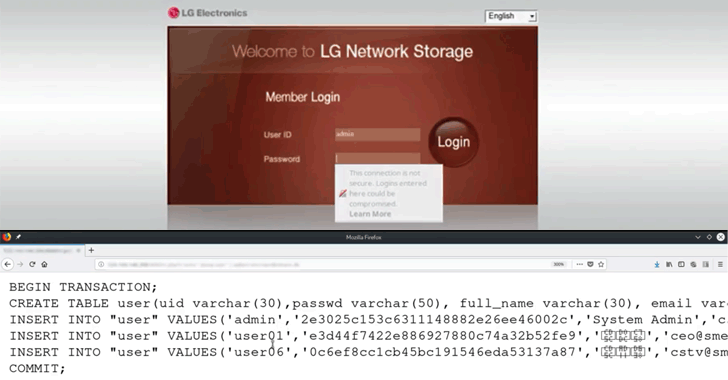 If you have installed a network-attached storage device manufactured by LG Electronics, you should take it down immediately, read this article carefully and then take appropriate action to protect your sensitive data.
A security researcher has revealed complete technical details of an unpatched critical remote command execution vulnerability in various LG NAS device models that could let attackers compromise vulnerable devices and steal data stored on them.
LG's Network Attached Storage (NAS) device is a dedicated file storage unit connected to a network that allows users to store and share data with multiple computers. Authorized users can also access their data remotely over the Internet.
The vulnerability has been
discovered
by the researcher at privacy advocate firm VPN Mentor, the same company that last month revealed severe flaws in three
popular VPNs
—HotSpot Shield, PureVPN, and ZenMate VPN.
The LG NAS flaw is a pre-authenticated remote command injection vulnerability, which resides due to improper validation of the "password" parameter of the user login page for remote management, allowing remote attackers to pass arbitrary system commands through the password field.
As demonstrated by the researchers in the following video, attackers can exploit this vulnerability to first write a simple persistent shell on the vulnerable storage devices connected to the internet.
Using that shell, attackers can then execute more commands easily, one of which could also allow them to download the complete database of NAS devices, including users' emails, usernames and MD5 hashed passwords.
Since passwords protected with MD5 cryptographic hash function can easily be cracked, attackers can gain authorized access and steal users sensitive data stored on the vulnerable devices.
In case, attackers don't want to crack the stolen password, they can simply run another command, as shown, to add a new user to the device, and log-in with that credentials to get the job done.
To add a new user to the database, all an attacker needs to do is generate a valid MD5. "We can use the included MD5 tool to create a hash with the username test and the password 1234," the researchers say.
Since LG has not yet released a fix for the issue, users of LG NAS devices are advised to ensure that their devices are not accessible via the public Internet and should be protected behind a firewall configured to allow only a trusted set of IPs to connect to the web interface.
Users are also recommended to periodically look out for any suspicious activity by checking all registered usernames and passwords on their devices.