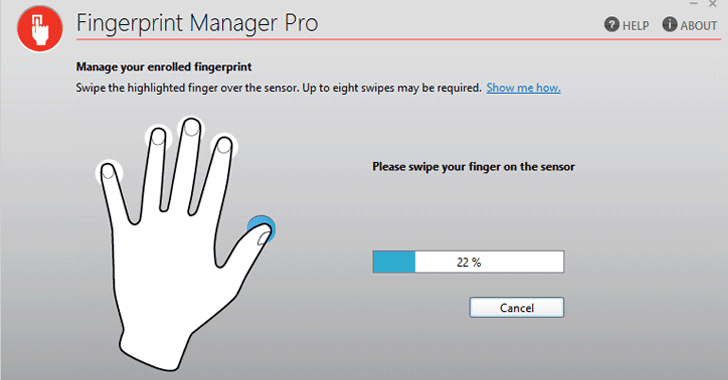 Lenovo has recently rolled out security patches for a severe vulnerability in its Fingerprint Manager Pro software that could allow leak sensitive data stored by the users.
Fingerprint Manager Pro is a utility for Microsoft Windows 7, 8 and 8.1 operating systems that allows users to log into their fingerprint-enabled Lenovo PCs using their fingers. The software could also be configured to store website credentials and authenticate site via fingerprint.
In addition to fingerprint data, the software also stores users sensitive information like their Windows login credentials—all of which are encrypted using a weak cryptography algorithm.
According to the company, Fingerprint Manager Pro version 8.01.86 and earlier contains a hard-coded password vulnerability, identified as
CVE-2017-3762
, that made the software accessible to all users with local non-administrative access.
"Sensitive data stored by Lenovo Fingerprint Manager Pro, including users' Windows logon credentials and fingerprint data, is encrypted using a weak algorithm, contains a hard-coded password, and is accessible to all users with local non-administrative access to the system it is installed in," the company said in its advisory, giving brief about the vulnerability.
The vulnerability impacts Lenovo ThinkPad, ThinkCentre and ThinkStation laptops, and affects more than two dozen Lenovo ThinkPad models, five ThinkStation Models and eight ThinkCentre models that run Windows 7, 8 and the 8.1 operating systems.
Here's the full list of Lenovo devices compatible with Fingerprint Manager Pro and impacted by the vulnerability:
ThinkPad L560
ThinkPad P40 Yoga, P50s
ThinkPad T440, T440p, T440s, T450, T450s, T460, T540p, T550, T560
ThinkPad W540, W541, W550s
ThinkPad X1 Carbon (Type 20A7, 20A8), X1 Carbon (Type 20BS, 20BT)
ThinkPad X240, X240s, X250, X260
ThinkPad Yoga 14 (20FY), Yoga 460
ThinkCentre M73, M73z, M78, M79, M83, M93, M93p, M93z
ThinkStation E32, P300, P500, P700, P900
Lenovo has credited security researcher Jackson Thuraisamy with Security Compass for discovering and responsibly reporting the vulnerability.
UPCOMING WEBINAR
🔐 Mastering API Security: Understanding Your True Attack Surface
Discover the untapped vulnerabilities in your API ecosystem and take proactive steps towards ironclad security. Join our insightful webinar!
Join the Session
The popular Chinese computer manufacturer strongly recommends its ThinkPad customers to update their devices to Fingerprint Manager Pro version 8.01.87 or later to address the issue. You can also head on to the company's official
website
to do so.
Since Microsoft added native fingerprint reader support with Windows 10 operating system, thus eliminating the need for the Fingerprint Manager Pro software, Lenovo laptops running Windows 10 are not impacted by the vulnerability.