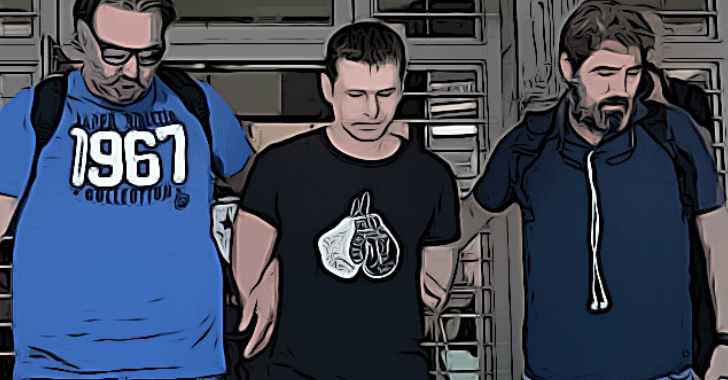 A Greek court has approved the U.S. extradition of a 38-year-old Russian national accused of laundering more than $4 billion in bitcoin for culprits involved in hacking attacks, tax fraud and drug trafficking with the help of the now-defunct BTC-e exchange.
Alexander Vinnik
, an alleged operator of BTC-e—a digital currency exchange service that has been in operation since 2011 but seized by the authorities right after Vinnik's arrest in a beachside village in northern Greece in late July 2016 at the request of US law enforcement authorities.
Since his arrest, Moscow has also requested Vinnik be returned home, as it has previously done with other Russian nationals wanted by the United States.
However, the Greek court ruled Wednesday (4 October) to extradite Vinnik to the U.S., where he will face trial on the
charges
with the operation of an unlicensed money service business, money laundering, conspiracy to commit money laundering, and engaging in unlawful monetary transactions.
U.S. authorities suspect Vinnik was the one responsible for facilitating crimes ranging from computer hacking to drug trafficking since at least 2011 through his digital Bitcoin exchange.
U.S. authorities also linked the
accused to the failure
of the once-very popular Japanese bitcoin exchange Mt. Gox, which was shut down in 2014 following a massive series of mysterious robberies, which totalled at least $375 million in Bitcoin.
The authorities believe Vinnik "obtained" funds from the hacker or insider who stole bitcoins from Mt. Gox and sent them to a bitcoin wallet controlled by Vinnik, who intentionally laundered them through BTC-e, over a period of three years.

"After the coins entered Vinnik's wallets, most were moved to BTC-e and presumably sold off or laundered (BTC-e money codes were a popular choice). In total some 300,000 BTC ended up on BTC-e," according to WizSec, a Japanese security firm that has long been investigating the Mt. Gox case.
"To be clear, this investigation turned up evidence to identify Vinnik not as a hacker/thief but as a money launderer; his arrest news also suggests this is what he is being suspected for. He may have merely bought cheap coins from thieves and offered a laundering service."
While Greek police described Vinnik as "
an internationally sought 'mastermind' of a crime organisation,
" United States authorities accused him of facilitating crimes including hacking, identity theft, tax refund fraud, public corruption and drug trafficking.
Soon after the Greek court decision, Vinnik's lawyers appealed to the Supreme Court.
"We have taken immediate action and appealed the ruling, and the case will be examined by the criminal division of the Supreme Court," Vinnik's lawyer, Alexandros Lykourezos, said, as quoted by The News Tribune.
If extradited to the United States, Vinnik faces up to 55 years in prison, along with a $500,000 fine or twice the value of the property involved in the transaction for each count.
However, he has denied all charges against him, saying he was just a technical consultant to BTC-e and not its operator.
"I have nothing to do with what I am accused of," he told the judges.
Vinnik also claimed that the laptop seized by the Greek authorities during his arrest was in no way related to his job, adding that it only contained children's cartoons for his family.
Vinnik is trying to return to his home in Russia, where he is facing lesser fraud charges, although a hearing date for the Russian extradition request has not yet been set.