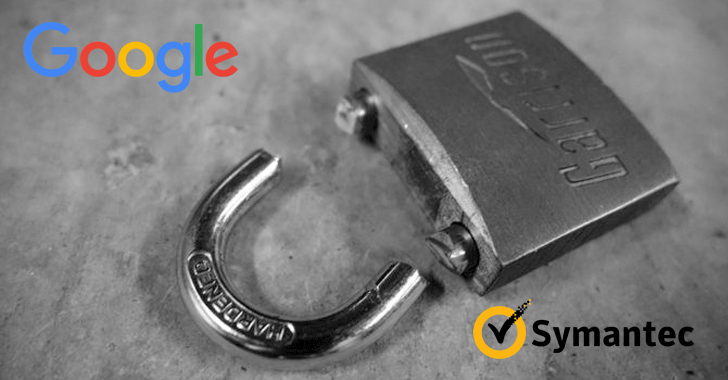 Google announced its plans to punish Symantec by gradually distrusting its SSL certificates after the company was caught improperly issuing 30,000 Extended Validation (EV) certificates over the past few years.
The Extended Validation (EV) status of all certificates issued by Symantec-owned certificate authorities will no longer be recognized by the Chrome browser for at least a year until Symantec fixes its certificate issuance processes so that it can be trusted again.
Extended validation certificates are supposed to provide the highest level of trust and authentication, where before issuing a certificate, Certificate Authority must verify the requesting entity's legal existence and identity.
The move came into effect immediately after Ryan Sleevi, a software engineer on the Google Chrome team, made this announcement on Thursday in an
online forum
.
"This is also coupled with a series of failures following the previous set of misissued certificates from Symantec, causing us to no longer have confidence in the certificate issuance policies and practices of Symantec over the past several years," says Sleevi.
One of the important parts of the SSL ecosystem is Trust, but if CAs will not properly verifying the legal existence and identity before issuing EV certificates for domains, the credibility of those certificates would be compromised.
Google Chrome Team started its investigation on January 19 and found that the certificate issuance policies and practices of Symantec from past several years are dishonest that could threaten the integrity of the TLS system used to authenticate and secure data and connections over the Internet.
Under this move, the Google Chrome team has proposed following steps as punishment:
1.
EV certificates issued by Symantec till today will be downgraded to less-secure domain-validated certs, which means Chrome browser will immediately stop displaying the name of the validated domain name holder in the address bar for a period of at least a year.
2.
To limit the risk of any further misissuance, all newly-issued certificates must have validity periods of no greater than nine months (effective from Chrome 61 release) to be trusted in Google Chrome.
3.
Google proposes an incremental distrust, by gradually reducing the "maximum age" of Symantec certificates over the course of several Chrome releases, requiring them to be reissued and revalidated.
Chrome 59 (Dev, Beta, Stable): 33 months validity (1023 days)
Chrome 60 (Dev, Beta, Stable): 27 months validity (837 days)
Chrome 61 (Dev, Beta, Stable): 21 months validity (651 days)
Chrome 62 (Dev, Beta, Stable): 15 months validity (465 days)
Chrome 63 (Dev, Beta): 9 months validity (279 days)
Chrome 63 (Stable): 15 months validity (465 days)
Chrome 64 (Dev, Beta, Stable): 9 months validity (279 days)
This means, starting with Chrome 64, which is expected to come out in early 2018, the Chrome browser will only trust Symantec certificates issued for nine months (279 days) or less.
Google believes this move will ensure that web developers are aware of the risk of future distrust of Symantec-issued certs, should additional misissuance events occur, while also giving them
"the flexibility to continue using such certificates should it be necessary."
Symantec Response – Google's Claims Are "Exaggerated and Misleading"
Symantec has
responded
and stated that the claim of mis-issuing 30,000 SSL certificates made by Google are "Exaggerated and Misleading".
"We strongly object to the action Google has taken to target Symantec SSL/TLS certificates in the Chrome browser. This action was unexpected, and we believe the blog post was irresponsible."
"While all major CAs have experienced SSL/TLS certificate mis-issuance events, Google has singled out the Symantec Certificate Authority in its proposal even though the mis-issuance event identified in Google's blog post involved several CAs."