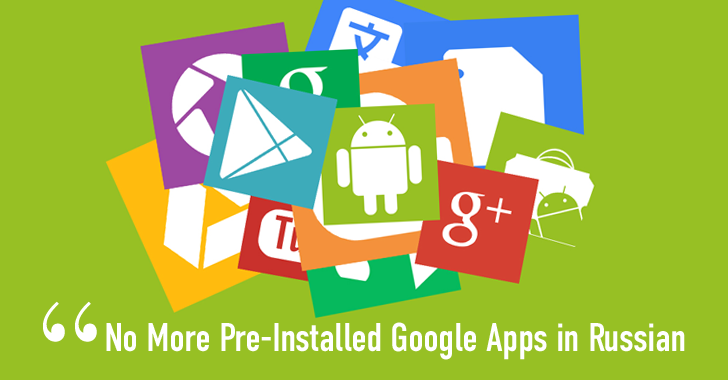 The Giant search engine Google has lost an anti-monopoly appeal in Russia against ruling related to its Android mobile OS
The Moscow Arbitration Court on Monday ruled that Google had violated its dominant position with the help of its free open source mobile platform "Android" by forcing its own apps and services like Youtube, Google Map, and others, on users — reducing competition.
The complaint was brought against Google last February by competing search engine Yandex — Russian Counterpart of Google — which had argued that Google broke competition rules by requiring handset manufacturers to pre-install its apps on Android phones and tablets.
Yandex-1, Google-0
According to the survey conducted by Liveinternet data in September 2013, Yandex accounted 57.4% of the Russian search market, while Google shared 34.9%. This stats reflected in the share market, as their shares were 62.2 and 26 percent respectively.
These statistical analyzes really worried Google about its operations in the Russian Cyberspace and soon it rolled out its Plan B to gain widespread popularity in the Russian Markets by shipping Android smartphones with Google Play Store as bloatware.
This, however, gained a pony monopoly among the Russian Markets. But soon, Yandex noticed that millions of smartphones in Russia shipped with the Android platform that uses Google as the default search engine.
As Yandex ranked as the 4th largest search engine worldwide, the popularity of Android in Russia had already reflected the changes in the Russian Stock Market, forcing Yandex to proceed with a lawsuit against Google in February 2015.
No Pre-installed Google Apps for Russians
The original ruling was then handed down by the country's privacy watchdog, the Federal Antimonopoly Service (FAS), last September over the pre-installed Google apps on Android and blocking other service providers.
Google appealed the ruling and filed an antitrust to adhere their business in the Russian Markets last year.
However, yesterday (
Tuesday
) the Moscow Arbitration Court
rejected
the company's appeal — upholding FAS' judgment that Google's practices broke Russian law by leading to the 'prohibition of pre-installation of apps of other producers.'
To regain its dominance over foreign search engines, FAS had already passed the case in favor of Yandex, the native search engine.
FAS adjourned that the default Android would not be coming with any pre-installed Google apps on Android smartphones and tablets in Russia.
Google will now be required to amend its contract with OEMs in Russia to comply with the ruling. The company now faces having to instruct its contracts with manufacturers and paying a penalty based on its local earnings.
Is Yandex - An Unsung Hero?
There is already a buzz in the cyber chat rooms that Yandex was a cloned product of Google, which is evident from many social discussion sites.
Yandex had already developed a unique method to search the whole Bible and Russian Literatures at its infancy stage, which was adopted by Google later.
These are some of the hidden facts about Yandex:
Yandex launched as a search engine in 1997, a year earlier than Google.
Yandex also launched maps in 2004, Google a year later in 2005.
Yandex was the first to launch news search in 2000, Google in 2002.
Blog search came out of Russia in 2004, but out of California only in 2006.
Yandex had already launched an RSS aggregator in 2005, Google followed in 2006.
Even Though Google had implemented many new ideas as time progressed with the help of its think tanks, yet Yandex was behind the implementations of classic times.
Let's look what would be the next roll out from Yandex after the Thumbs Up Rule from FAS.