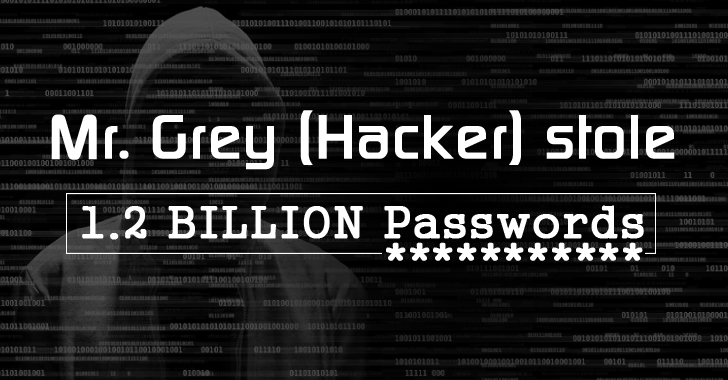 That's a lot of Login credentials fetch by a single hacker.
The FBI believes a single hacker who goes by the moniker Mr.Grey has stolen login credentials for over 1.2 Billion online accounts – apparently the biggest heist of log-in credentials the FBI has investigated thus far.
Yeah, that's not Fifty, but 1.2 Billion Shades of Grey.
The information came from the court documents the federal agents submitted to support its search warrant request in 2014, Reuters
reported
.
The cyber security firm 'Hold Security' initially reported the theft of the credentials last year. It found out that Russian hacking group CyberVor has stolen 1.2 Billion login details and an additional 500 Million email accounts.
Botnet Breach
These data were said to have been harvested from over 420,000 websites via botnets looking for
SQL injection flaws
; the same technique recently used to
hack TalkTalk
.
Botnets are usually employed to attack an individual target, but in this case, they have been used as a huge scanner to scan websites on the Internet.
"To the best of our knowledge, [CyberVor] mostly focused on stealing credentials, eventually ending up with the largest cache of stolen personal [data], totalling over 1.2 Billion unique sets of emails and passwords," Hold Security said in August last year.
1.2 Billion Shades of Grey
The FBI is linking Mr.Grey to the largest heist after finding his Russian email address in spam-sending tools and posts on a Russian hacking forum offering to get user login credentials of Twitter, Facebook and Russian social network VK during its investigation.
Alex Holden, chief information security officer at Hold Security, believes those posts on online hacking forum prove that the hacker, "mr.grey" or "mistergrey", has access to a large database of stolen online credentials.
However, it's still unclear if Mr.Grey obtained all the login credentials by himself alone, or if Mr.Grey is just a single hacker or a group of hackers operating under one name.
Unfortunately, not much information is known about Mr.Grey's operations, but we will update soon if the FBI releases any new info.