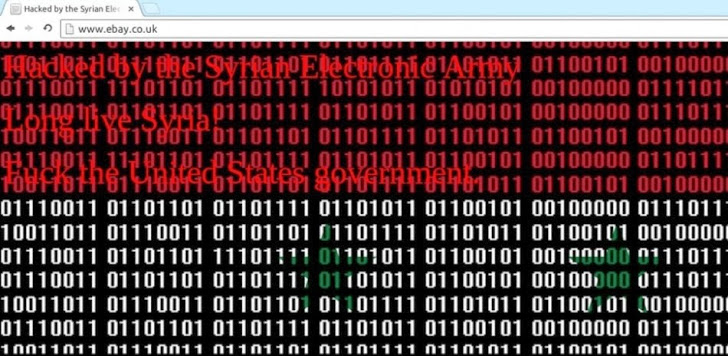 A pro-hacker group, aligned with president
Bashar al-Assad,
very well known as
Syrian Electronic Army
(SEA) has again gained the media attention by adding the popular sites, i.e.
eBay UK
and
PayPal
UK
to its victim list.
After targeting websites of various media agencies, government organizations and big enterprises, including the latest defaced CNN and Microsoft, today they targeted and defaced the official websites of UK's Ebay (ebay.co.uk) and PayPal (paypal.co.uk).
The group also left a deface page along with a message on the hacked
PayPal
UK site: "
Hacked by Syrian Electronic Army! Fuck the United States Government.
"
It is clear that the attack on PayPal could put millions of peoples' bank information at risk, but the group said that the attack is not to target account information of people instead was 'Purely a Hacktivist Operation' with the reason behind is the discrimination of Syrian citizens by PayPal company.
"For denying Syrian citizens the ability to purchase online products, PayPal was hacked by SEA", "If your PayPal account is down for a few minutes, think about Syrians who were denied online payments for more than 3 years. #SEA", the messages in the Official Twitter account of the group.
PayPal is currently one of the biggest international e-commerce business, allowing payments and money transfers to be made through the Internet. Whereas eBay is an American multinational internet consumer-to-consumer corporation popularly used for Online shopping around the Globe.
Anuj Nayar
, PayPal's senior director of global initiatives, told
Mashable
, "
For a brief period today, a very limited number of people visiting certain PayPal and eBay marketing pages in the UK, France and India were redirected. The issue was quickly detected and resolved. No customer data was accessed by these redirects, and no customer accounts were affected. We take the security and privacy of our customers very seriously and are actively investigating the reasons behind the temporary redirects.
"
At the time of writing, The official website of Hacking Group was down and the Twitter account has also been suspended.