J. Taikwok Yung is 33, lives with his mom in Brooklyn, and bought domain names that criticize billionaire Donald Trump and cybersquatting him. Cybersquatting is a legitimate crime that's defined by the Anticybersquatting Consumer Protection Act.

"Cybersquatting (also known as domain squatting), according to the United States federal law known as the Anticybersquatting Consumer Protection Act, is registering, trafficking in, or using a domain name with bad faith intent to profit from the goodwill of a trademark belonging to someone else. The cybersquatter then offers to sell the domain to the person or company who owns a trademark contained within the name at an inflated price." from wikipedia.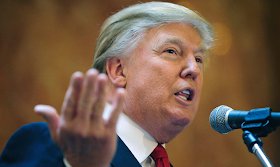 Donald Trump is seeking $400,000 in damages from a Brooklyn man, who register four domains trumpindia.com, trumpbeijing.com, trumpmumbai.com and trumpabudhabi.com as domain names of well-known trademarks and then try to sell the names back to the trademark owners, Mr. Trump.
Donald Trump sues Bill Maher over joke 2012: Should Macy's dump Trump? In 2011, Yung filed a complaint seeking to keep the domain names, citing fair use and First Amendment rights, after actions filed by the Trump Organization demanded he hand the websites over to Trump.
He collected nearly 200 domain names, including ones related to Merrill Lynch and Bank of America. Yung maintained that he never contacted the Trump Organization about selling the domain names for profit, he wrote in the complaint.