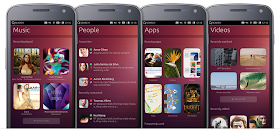 Soon, you would have the ability to carry a proper desktop operating system on your mobile phone. The firm behind the Ubuntu operating system,
Canonical
has announced a version of its software for smartphones. Instead of Android, now users will be able to run a very different Linux-based OS , the long-awaited mobile version of Ubuntu which comes with a new UI adapted for smaller screens.
Best part, the operating system uses the drivers and kernels from Android, which means it can be easily installed on any smartphone currently running Google's OS, and also means manufacturers won't need to change any of their hardware to support the new OS.
Benefits:
A single OS for phone, PC and TV
Fast, beautiful interface for entry level smartphones
Unique PC experience on super phones when docked with a monitor, keyboard and mouse
Ubuntu raises the bar for mobile UI design, for richer and more apps.
Ubuntu's founder, Mark Shuttleworth, said he was in talks with manufacturers for devices to be sold with the system pre-installed within the year. We must say, Ubuntu comes to the phone, with a beautifully distilled interface and a unique full PC capability when docked.
You won't be able to get hold of pure Ubuntu phone until the end of this year or even early 2014, but an image for the Samsung Galaxy Nexus will be released in the coming weeks if you can't wait that long.