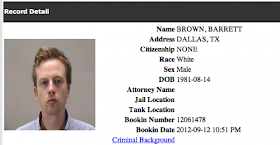 A Dallas man linked to the worldwide hacking group Anonymous is accused of threatening to ruin an FBI agent's life in online postings.
Barrett Lancaster Brown, 31, of Dallas, was indicted on one count of making an Internet threat, one count of conspiring to make restricted personal information of an employee of the United States publicly available, and one count of retaliation against a federal law enforcement officer.
Serious charges, but not totally unexpected. Authorities raided Brown's apartment and
arrested him last month
while he was chatting online with Anonymous folks, but authorities wouldn't say why he was being detained until Thursday, when the U.S. attorney's office announced a three-count indictment against him.
Brown's attorney, Jay Leiderman, has said he believes some of the charges stem from a YouTube video in which Brown rails against law enforcement. The indictment lists several tweets in which Brown talks about having a "
plan to kill every government you meet
" and taunts the FBI. It also quotes from a YouTube video entitled in part, "
Why I'm Going to Destroy FBI Agent Robert Smith.
"
Brown released three videos just days before he was arrested where he detailed his grievances with the FBI concerning a raid on his residence last March in which his computer equipment was seized. In the video, Brown gave an ultimatum to the FBI where he demanded an apology from FBI Agent Robert Smith and the return of his equipment.
Claiming that his mother had been threatened with obstruction of justice and obviously upset, Brown in turn threatened Agent Smith in the video. "
That's why Robert Smith's life is over. When I say his life is over, I don't say I'm going to go kill him but I am going to ruin his life and look into his fucking kids
," said Brown in a YouTube video.